Smart. Just like MUJI.
iPad Version
See yearly, monthly, and daily schedules on one screen―no scrolling! Pinch-in and -out to move from yearly to monthly to daily views.
Watch video
iPhone Version
In addition to monthly and daily screens, you can also display a two-week screen to look at your upcoming events. Switch to vertical scrolling, so even the busiest schedules are easy to see.
Sync with Google Calendar.
Do you use Google Calendar? Go ahead and sync between MUJI CALENDAR and your Google account. Of course, you can use MUJI CALENDAR as a stand-alone scheduler, too.
Customize it to fit your own style.
Select a 12- or 24-hour view. You can choose what time to start your day, and even what day to start your week. Set your schedule to fit how you live your life.
Watch video
It's easy to manage.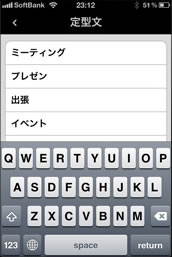 Double-tap on the day view to create a new event. Select event names from a default list. Drag events to other days and times; categorize events by icon.
Watch video
Specifications
iPad Version
iPhone Version
Requirements
iOS 3.2 or later
iOS 4.0 or later
Languages
English, Chinese, French, Japanese, Spanish
English, Chinese, Japanese
Notes

◎iPad Calendar app, Mobile Me synchronization not supported.


◎iPhone Calendar app synchronization supported.
◎Mobile Me synchronization not supported.



◎You must have a Google account to sync with Google Calendar; Internet connection required for syncing.
◎MUJI CALENDAR can be used as a stand-alone app.
◎How to unlock your Google account after a synchronization error:
Google accounts may be locked, preventing synchronization with MUJI CALENDAR, if a number of sync attempts are tried over a short period.
Follow the steps below to unlock your account in the event of multiple failed sync attempts:
(1) Go to https://www.google.com/accounts/UnlockCaptcha
(2) Follow the instructions to unlock your account
(3) sync MUJI CALENDAR and Google Calendar