Express Gratitude
Always say thank you to your great friends and loved one. Present the handmade sweets and heart-warming gifts as a way to express gratitude. Send blessings to experience the perfect Valentine's Day.
Kit List
Enjoy chocolate decoration, simply follow the steps to make or bake the delicious sweets in unique flavours.
MUJI's handmade kits include ingredients, mould and packaging materials, which provide what you needed to create a personalized handmade gift and express your love and gratitude on the warm Valentine's Day.
Handmade Kit Features
Packaging
Handmade kits feature mould and packaging materials including transparent bags and ties for individual wrapping of sweets.
Other packaging materials such as hemp rope, gift boxes and recycled paper craft bags are available for selection, providing you the joy of handmade fun.
About using butter
It is recommended to use unsalted butter, while salted butter or margarine for cake can also be used.
If salted butter is used

The taste of the handmade sweets will be relatively salty compared to those made with unsalted butter.

If margarine for cake is used

The dough will be harder to handle and the taste of the handmade sweets will be lighter compared to those made with unsalted butter.
About couverture chocolate
Using for the handmade kits with couverture chocolate contents such as "Handmade Gateau Chocolate Cake Kit" and "Handmade Brownie Kit". The cocoa butter level of couverture chocolate provides the sweets with different level of textures and tastes. The couverture chocolate with relatively higher cocoa butter is said to be the "delicious chocolate". ※ The standard of couverture chocolate varies in different countries. In Japan, couverture chocolate contains 31% or more of cocoa butter.
MUJI Recipe
Add fresh or special ingredients according to your preference and bake the sweets with personal tastes in simple steps, which adds textures and visual enjoyment at the same time.
St. Valentine's Day Creative Recipe Contest
St. Valentine's Day is just around the corner! To express love to your special someone can be as easy as to prepare a simple homemade meal with a little twist.

From now till 11th February, use any MUJI Food Item or Handmade Dessert Kit with your creativity to create simple yet special dish or dessert for St. Valentine's Day, upload the dish photo and recipe to Instagram, add hashtag #mujihk_recipe (post should be set as public) and follow @muji_hongkong, 5 entrants will be selected based on the creativity and easiness of recipe as well as food presentation, and awarded with MUJI HK$300 Gift Coupon.

The list of winners will be announced on MUJI Hong Kong official page on 14th February 2018 (Wednesday) and each winner will be notified by Instagram Direct Messaging.

Submit entry today to share your recipe idea for Valentine's Day!
Contest Period: 19th January 2018 (Friday) to 11th February 2018 (Sunday)
Result Announcement: 14th February 2018 (Wednesday)

Tap here to view Terms and Conditions.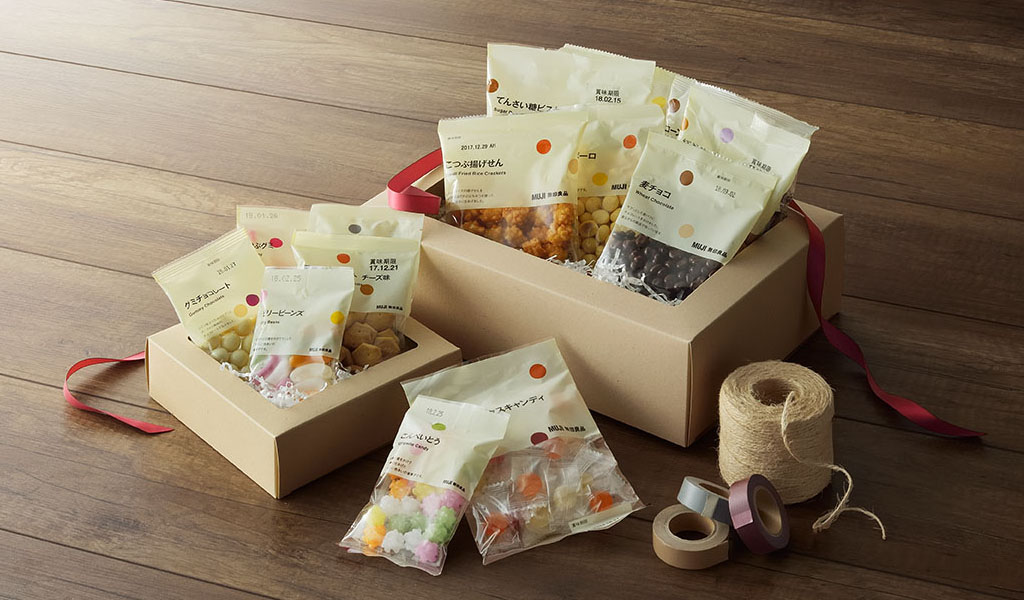 Express gratitude with a small pack of confectionary
In Japanese culture, pochi bukuro (little paper envelope) is always presented as a token of appreciation to someone. MUJI's "Pochi Gashi" small pack snack is ideal to express your warmest gratitude thankfulness to people around us in everyday life.
A Gift of Blessings
Choose a warmhearted gift for your loved one. A range of gift ideas including portable, personal and fragrance items for selection, present with simple packaging materials, it provides you the joy of handmade fun while highlight the gift on the special day.
© MUJI (Hong Kong) Co., Ltd.