Found MUJI | Tokyo
Posted:

Found MUJI 東京
Tokyo is a city of waterways.
The topography of Tokyo can be broadly divided into plateaus and lowlands- with the hills and plateaus of Tama and Musashino unfolding against the Kanto-sanchi mountains to the west and the lowlands that stretches to the east.
Many rivers run through the uneven terrain, winding their way through to Tokyo Bay. This close connection with the rivers and the sea has shaped people's lives and cultures, which remain strong in Tokyo today. These water sources have not only provided drinking water, but have also been a vital resource for many industries.
Beginning with the Edo period (1603-1868), the waterways that were built and maintained formed an infrastructure for the distribution of goods, and the riverbanks became bustling urban centres where people gathered for festivals and entertainment.
Even today, anyone strolling around Tokyo will see this legacy. Streets are dotted with markets, warehouses of timber merchants, wholesale districts, and small factories. Yakatabune, a type of tour boats with roofs, float down the Sumida River; and people drinking at izakayas with red lanterns are still common sights.
The waterfront has long been an integral part of Tokyo life.
For the Tokyo edition of Found MUJI, we explore items used commercially and in daily life, for glimpses of the industries and lifestyles that have taken shape along the waterfront.
Launch Date: 12th December 2019.
Dye-Works (Koishikawa, Bunkyo-ku)

This studio dyes thin tenugui towels using itajime, a pressure-resist method of dyeing which dates back to the Nara period (710-794). The fabric is intricately folded in the precise order needed to achieve a particular pattern, which is then pressed between a pair of clamps. The clamped sections remain undyed, and a pattern created by the shape of the clamps would eventually emerge. Being hand-dyed each piece is unique in itself, offering an intriguing variety to choose from
Brush Workshop (Imado, Taito-ku)

The Asakusa area is home to many wholesalers of shoe and leather goods. From the Edo period to the beginning of the Meiji period, a time when Western fashion began to arrive in Japan, a tannery stood on one side of the Sumida River and on the opposite bank, there were a large number of cobbler training workshops and small shoe factories. As times changed, factories that manufactured brushes for house painting or kimono fabric painting brushes came to also manufacture shoe and garment brushes. Today, the brush business is focused on making larger brushes for shoe factories, as well as shoe and garment brushes for retail shoppers.
| | |
| --- | --- |
|   | |
|   | Special equipment is required for inserting brush bristles. |
 This kitchenware wholesale district is popular with those in the restaurant business. Shop shelves are packed with everything that restaurants and coffee shops use today, including stainless steel tableware, commercial use glass bottles and cooking utensils.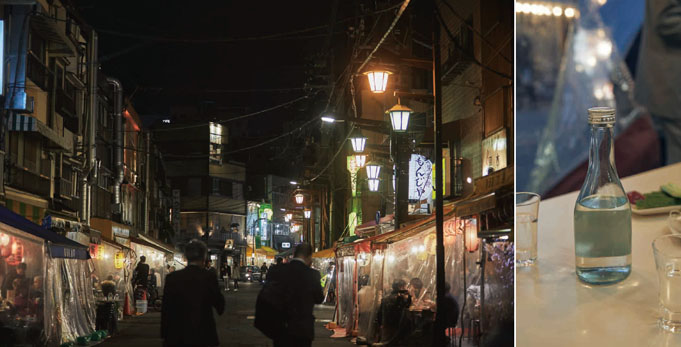 At dusk, the streets are filled with laughter and toasts as friends and colleagues meet at izakayas with red lanterns. Trade here began during the Edo period with outdoor alcohol and sushi stalls set up at the foots of bridges. Although most stalls have since been replaced, the same familiar scenes of friends talking over drinks and food still characterise the neighbourhood.
  
 

 Forestry in Tokyo (Hinohara-mura, Nishitama-gun)

Approximately 40% of the total area of Tokyo is forest land. Forestry has long been a prosperous industry in the western part of the Tama region, with rafts carrying timber down the Tama River to lumber wholesalers in Fukagawa and Kiba since as far back as the Edo period. 

Demand for wood was high in Edo (today's Tokyo area) due to fires that frequently occurred in the city, and the trees if the Tama forest were felled to meet this demand.  The Tama forest will continue to be protected as people living in Tokyo are using more local lumber from the Tokyo area.
Click here to view Found MUJI | Tokyo Catalogue 
---
Found MUJI: MUJI Emporium

Level 2, Emporium Shopping Centre, 287 Lonsdale St, Melbourne, 3000
(▸ Store information)
Found MUJI: MUJI The Galeries

1 The Galeries, 500 George St, Sydney NSW 2000
(▸ Store information) 
---
Topics: australia, fabrics, found muji, Kitchenware, melbourne, muji, mujiau, tokyo