Found MUJI | Portugal
Posted:

Found MUJI | Portugal
Once out of the cities, rolling hills unfold, houses line their gentle slopes.
The climate in Portugal can generally be described as mild, but the topography running north to south makes for different climates along the Atlantic Ocean coastline and the regions further inland. Fresh fish is caught on the coast, while the inland areas provide a rich variety of meat, fruits and vegetables.
In the northern city of Porto, where traditionally all parts of an animal is used up, one local dish is made only from simmered pork innards. In the fishing villages along the seaside, varieties of fish are chopped up and mixed with plenty of vegetables to make scrumptious stews.
The Portuguese value local ingredients, savouring every part and letting little go to waste. This approach has brought about a great variety to the country's food culture.
Portugal seemed a country with a comfortable climate. People there appreciate the value of what the land produces. This echoes with the country's vibe, the people, products, public affairs and every aspect that surrounds the calm pace of daily life.
Launch Date: 6th March 2020.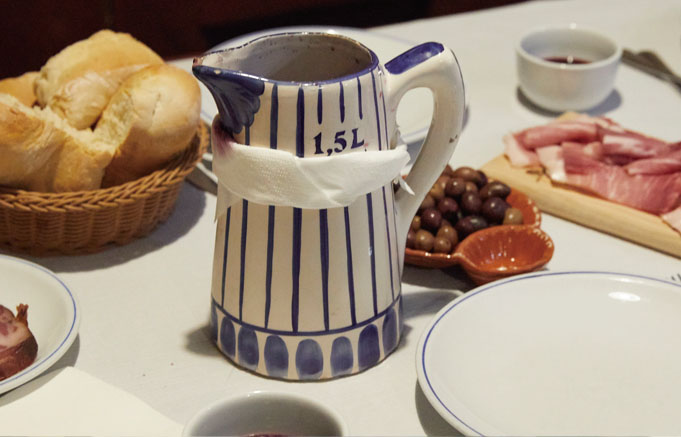 Vinho verde is produced in the northern Portuguese province of Minho. Literally meaning 'green (young) wine,'Traditionally, farmers grew vegetables in the field for their personal consumption, with vinho verde grape
vines planted along the perimeter.  Vinho verde is served in a ceramic carafe and enjoyed from small ceramic bowls. 
 

 

Yellow Pastry (Ovar, etc)

The streets of Portuguese towns are often lined with many pastelaria cafes serving arrays of pastries.
Display cases are filled with different types of sweet treats loaded with egg yolk, giving them their
yellow colour and rich sweetness.
Pão de ló, from the Ovar region, is said to be the predecessor to the Castella sponge cake brought
over from Portugal to Japan. The batter for this cake is baked in a terra cotta cake pan lined with
paper, leaving the centre soft and runny. To serve, it is cut to reveal the sweet, gooey centre.
Rice Dishes
Portuguese restaurant menus feature a variety of rice dishes such as duck rice and octopus risotto,
while it is also served on the side. Simmered in broths made from vegetables or shell fish,
the rice takes on a hint of these ingredients. Garnished rice is served at the table in widemouthed
terra cotta bowls. The long history of rice in Portugal began with its introduction from the Middle Eastern culture, which gradually became an integral part of the local cuisine.
 

 

Aluminium and Stainless Steel Tableware

In the cafeterias of Portuguese towns and cities, metal pots and plates are frequently used to serve
a variety of dishes including stews, risottos, and salads. In homes, toasters made from tin are used
just to crisp the surface of the bread. When the well-used, finely scratched metal plates and pots are
filled with simple, unadorned dishes, a wonderful warmth can be felt at the table.
Attaching the handle of tin toaster
Galão

A milky coffee made with 1/4 espresso and 3/4 milk, galão is served with bread and sweets for breakfast
or at tea time. At the morning market, both the people
working there and the customers can be seen taking a
break with a glass of galão.
The drink is served in a thick glass with a handle. 
 

 

Early Summer Sardines, Early Autumn Chestnuts

In early summer, sardines can be seen grilled not just in restaurants but also under the eves of
houses. Charcoal grills are set up at the back of restaurants, where sardines are grilled constantly
at this time of year. Simply seasoned only with salt, the small grilled sardines are served on square
or oval plates.
In early autumn, roasted chestnuts are sold here and there, at every market, at street crossings and
many other places. These too are roasted over charcoal and lightly salted.
 

 

Rag Rugs

A seemingly integral part of life in every house in Portugal, rag rugs are given their name from the old
clothes that are ripped into strips then woven. Today, these rugs are made with the fabric scraps left
behind from shirt manufacturing. With each row, the weaver passes the weft under the warp, using a
special tool to pull the weft over the warp in several places to create patterns.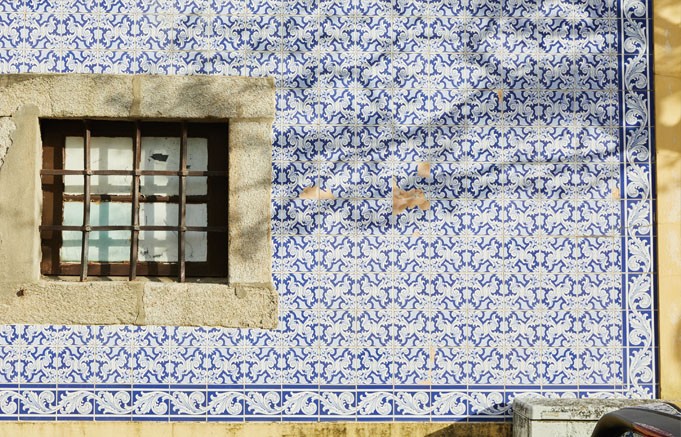 Aveiro, located in central Portugal, is well-known for its azulejo (Portuguese for tile). The Portuguese
who had sailed to Brazil, being nostalgic for their homeland, had further developed the craft of
making tiles while they were away. The unique azulejo were eventually brought back with them and
were soon widely adopted in Aveiro.
 Aprons (Nazaré)

Portuguese women are known as hard workers and aprons are often a part of their daily outfits.
In the coastal town of Nazaré, women dress in a traditional local style that has been worn here
for generations. A scarf is used to wrap around the head while a knitted stole is draped over the
shoulders on top of a shirt on chilly days. Skirts typically consist of four layers topped with an apron,
and sandals are still worn as traditionally they would help out at the beach whenever they were
needed.
On special occasions such as festivals, more skirts are added, making up to seven layers.
Although women still commonly wear traditional clothing, younger women have adopted a different
lifestyle, and gradually disregarding the traditional style. The apron worn over the multi-layered skirts
may soon be a rare sight around town.
Women in Nazaré who are up early for work wear traditional clothing layered with patterns. A quick
glance around the morning market reveals only women at work there.
 

Shepherd's Throw (Manteigas)

The small inland village of Manteigas is about a three hour drive from Lisbon. For generations, shepherds
have lived in the area and grazed their sheep on these lands. To protect themselves from the strong sun and
the cold nights, shepherds carried with them wool blankets made from sheep fleece. Bordaleira sheep give
white, beige, and brown wool, and it is still used today to weave sturdy blankets and throws. Next to the factory where these pieces are handwoven, around 120 sheep are kept for their fleece, which is used to make the blankets.
Click here to view the Found MUJI | Portugal Catalogue 
---
Found MUJI: MUJI Emporium

Level 2, Emporium Shopping Centre, 287 Lonsdale St, Melbourne, 3000
(▸ Store information)
---
Topics: australia, fabrics, found muji, Kitchenware, melbourne, muji, mujiau, portugal