MUJI WITH Ü
Posted:

Firstly, MUJI Australia wants to extend our well wishes to each and every one of you during this tough period.
As challenging as it may be, it is important to strike a balance by having structure and integrating some joy during the process. We are here to support by providing weekly online resources that everyone can turn to.
Focus on loved ones as it is a great opportunity to build and strengthen your family relationships. Create spaces for young ones to do arts or craft. Cooking together gives families a time to share, a chance to pause, catch up and just bond with each other. Devote some personal time to doing things that relax and settle such as taking a warm shower or bath, doing some gentle stretching, putting out some aromatherapy oil. Through "MUJI With Ü", we will provide activities for everyone that are educational, creative and entertaining. 
In an unprecedented time like this, MUJI is here with you. We encourage everyone to hug from a distance, pick up the phone to call your friends and loved ones, and to show a little more kindness to everyone.
Home & Kitchen
MUJI With Ü would like to introduce you to these all-natural cleaning hacks to keep your home fresh and sanitary.
Using natural ingredients you probably already have around the house, like lemons, vinegar and baking soda,
these homemade cleaning solutions can tackle everything from eliminating odour to soap scum in the bathroom.
Simply click to download tips! 
Wellbeing
MUJI WITH Ü is here to provide a step-by-step guide on how you can create a simple handkerchief face mask by using everyday items such as a handkerchief and elastic hair ties! These curved-shaped masks rest closer to the face and are adjustable to provide more comfort. Simply click to download step-by-step guide! ⠀
⠀⠀⠀⠀⠀
*Please note that this face mask is not meant to replace the surgical face mask. ⠀⠀⠀⠀⠀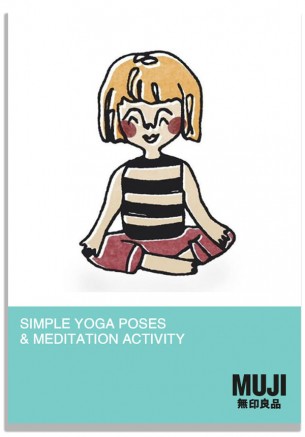 Take a breather with MUJI WITH Ü…
Practicing yoga has great health benefits beyond flexibility and balance. Yoga comes in different forms, from simple routines to partner poses to also activities for the whole family.
Alongside yoga, meditation has also been proven to be calming and beneficial to both adults and children alike. Participating in these two activities hand-in-hand is a great way to bring more mindfulness and focus to your lives. Here are some tips to help you get started on yoga and meditating. Simply click to download step-by-step guide!
Kids' Colouring Activity
 
Create spaces for young ones to do arts or craft. Grab some coloured pencils, crayons, markers — or even a pen — and get creative with our colouring activities. Colouring is believed to improve focus and foster relaxation. Simply tap on preferred design to download the fun colouring sheet! ⠀⠀⠀
Topics: Home, Interior, muji, MUJIWithU