Organic Coffee from East Van Roasters Soon Available at MUJI Robson Street
Posted: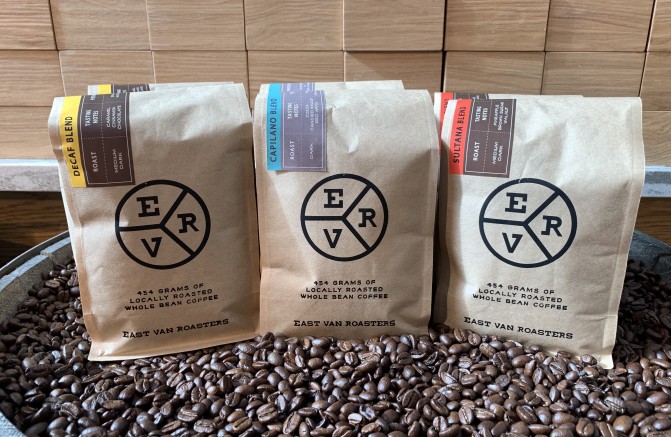 With our coffee counter at MUJI Robson Street, we hope to engage with the local community, support local businesses and encourage more community involvements in downtown Vancouver.
MUJI Robson Street has partnered with East Van Roasters (EVR), a social enterprise and a Vancouver-based specialty café producing organic coffee and Bean-to-Bar chocolate. EVR is a service partner of PHS Community Services Society, a non-profit organization whose goal is to provide housing, service and advocacy to those poorly served in Vancouver and Victoria, BC. Providing meaningful employment and job training to women from the alcohol and drug treatment program carried at the Rainier Hotel in Vancouver's Downtown Eastside, EVR has supported numerous women to re-enter the workforce with new skills learned. 
Committed to social responsibility and environmental accountability, EVR constantly seeks organic coffee beans produced by farmers who are devoted to community efforts and sustainable management. A new MUJI-exclusive signature blend from EVR and other blends will be available for $2 each cup at MUJI Robson Street's coffee counter beginning April 5th.
Try these New Selections at the MUJI Robson Street Coffee Counter!

Capilano Blend
(Exclusive at MUJI Robson Street)
Dark Roast
Tasting notes: Cocoa, candied walnut, red apple
Origins: Peru* & Brazil**
Sultana Blend
Medium Dark Roast
Tasting notes: Pineapple, brown sugar, walnut
Origins: Ethiopia, Brazil** and Peru*
Decaf Blend
Dark Roast
Tasting notes: Salted caramel, cinnamon, dark chocolate
Single Origin: Brazil**
*Fairtrade certified.
**Rainforest Alliance certified.