[Ended]Bullet Journal Workshop with @adagio.studies
August 10, 2019
The bullet journal is more than a beautiful notebook to photograph and share on Instagram: it's actually an excellent organization system. Why not start your own for the new semester?
In this workshop, GTA-based lettering artist, blogger, and Instagrammer @adagio.studies will introduce participants to the bullet journal system and explain the components in setting up a new journal, provide useful tips to create your own organization system, and show you how to plan your goals in a functional and fun way! Of course, MUJI's extensive line of stationery will be there to help.
[Instructor]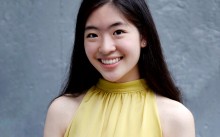 Vanessa Yu of @adagio.studies:
Better known as @adagio.studies on Instagram, Vanessa Yu is a GTA-based lettering artist, blogger and ardent cafe-hopper. When she's not busy being a student and pianist, you'll likely find her engaged in a creative task, whether it is fine art, bullet journalling or custom client work. She's never seen without her bullet journal, the all-encompassing notebook that keeps her (somewhat) organized. Vanessa hopes to inspire others to lead a more mindful and balanced life through journaling. Her other interests include eating dessert for lunch and expanding her succulent collection.
| instagram | 
Online registration is recommended. Remaining places will be filled on a first-come, first-served basis.

Open to anyone 12 years and older. Please register each participant separately.

This workshop requires participants to purchase the MUJI Dotted Grid Notebook before the beginning of the workshop. Prices vary by size, but begin at $7.50 plus tax.

Customizing materials will be provided for free during the workshop.

Participants are advised to arrive at least 15 minutes prior the workshop to check in and purchase the notebook.
Workshop will start at the announced time, and pre-registered spots will only be held for a limited time. If a registered participant doesn't arrive on time, we may cancel their registration without notice and offer the place to another participant. Please arrive early to guarantee your spot.
Please contact us here if you have any questions.
Location: MUJI Atrium
Click on a session to register. Each session will last about 60 minutes.
Event date:

August 10, 2019

Entrance fee:

Purchase of the Double Ring Dot Grid Notebook (starting at $7.50 plus tax).