[Ended]New Year's Bullet Journaling with @adagio.lettering
January 7, 2020
---
New Year's Bullet Journaling with Vanessa Yu
The New Year is here, and with a fresh start right in front of you, it's time to take a step back and reflect on how you want to improve yourself. Starting a bullet journal is the perfect way to keep track of what you find important in your life, from habits, to schedules, to goals!
This Tuesday evening, Vanessa Yu of @adagio.lettering will help us get started in organizing and planning our very own bullet journals. We'll also be focusing on how to create trackers that will suit any topic you want to stay on top of for the new year.
---
[Instructor]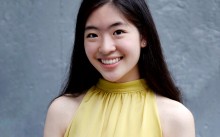 Vanessa Yu of @adagio.lettering:
Vanessa is a GTA-based calligrapher and ardent cafe-hopper. When she's not busy being a student and pianist, you'll likely find her engaged in a creative task such as fine art, bullet journalling or custom client work. Since discovering the world of calligraphy in 2016, she has enjoyed exploring different media and sharing her passion with others through local classes and workshops.
| instagram | 
---
Details
Online registration is recommended. Remaining spots will be filled on a first-come, first-served basis. 

Open to anyone 12 years and older. Please register each participant separately. 

This workshop requires participants to purchase a MUJI double ring dot grid notebook. Price starts from $7.50 plus tax. Other workshop materials will be provided.

Participants are advised to arrive at least 10 minutes prior to the workshop to check in and purchase the required notebook.

Workshops will start at the announced time, and pre-registered spots will only be held for a limited time. 

If a registered participant doesn't arrive on time, we may cancel their registration without notice and offer the place to another participant. Please arrive early to guarantee your spot. 
Please contact us here if you have any questions.
---
Location: MUJI Atrium
Click on a session to register. Each session will last about 60 minutes.
Event date:

January 7, 2020

Entrance fee:

Purchase of a MUJI Dot Grid Notebook (Starting from $7.50 plus tax)