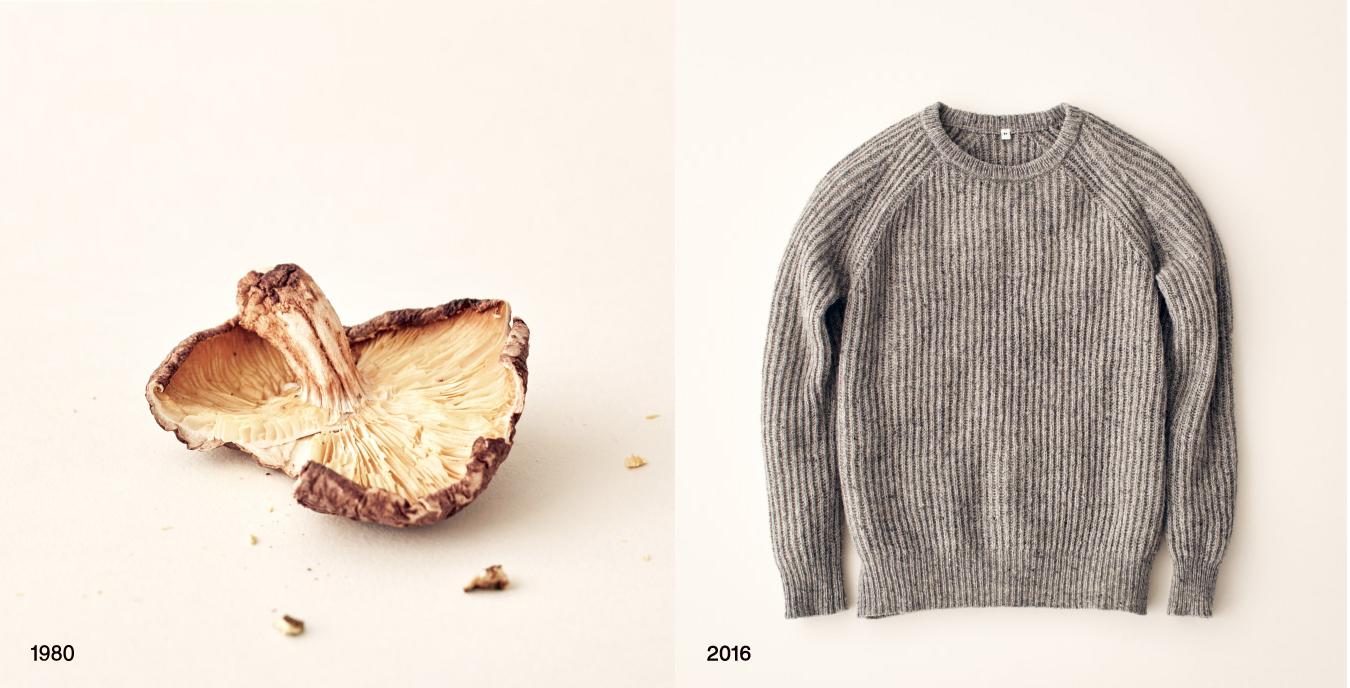 Imperfect shiitake and
reclaimed wool
Imperfect shiitake and reclaimed wool
MUJI introduced imperfect dried shiitake mushrooms in the early 1980s, at a time when perfectly round dried shiitake were preferred by the Japanese market. We skipped the shape-sorting step during manufacturing, in order to make expensive dried shiitake affordable. The reclaimed wool collection we launch this winter uses leftover fibres and scraps generated during the manufacturing process. Reclaiming materials that can be reused not only eliminates waste, but also keeps prices reasonable. Imperfect shiitake and reclaimed wool; two products which embody the MUJI concept of 'no frills, high-quality products'. The Why of Reclaimed Wool
Using even the tiniest pieces of leftover material

During the manufacture of wool pro- ducts, material ends are an inevit-able part of the patterning process. These leftover scraps are typically thrown away, but it is possible to collect them and recycle them as re- claimed wool that can be used again. Inspired by the values of the trad-itional Japanese lifestyle, MUJI looks to eliminate waste with a new initiative this year to produce reclaimed wool.

Taking the time to recycle

Producing reclaimed wool involves the same amount of time and effort as creating fabric directly from sheep's wool. Fabric ends are carefully sort-ed by colour, cut into small pieces, and pulled apart so the fibres can be re-spun into yarn. MUJI works with the best Japanese factories in the wool-producing region of Bishu in Ai- chi Prefecture to turn used wool fa-bric into high-quality reclaimed wool.

Products as part of a larger cycle

Our efforts to reclaim wool have only just begun. MUJI currently uses fabric ends from wool factories, but in the future, we plan to recycle and reclaim the ends created while mak- ing our own products, as well. We make the effort not to waste and hope to bring this respect for the objects we use daily into the larger product cycle in the future, as well as to our own conduct at MUJI.
1
Sort waste materials to be reclaimed

2
Shred into fibres suitable for spinning.

3
Spin into yarn.

4
Weave fabric.

5
Press creases, add texture, adjust stiffness.