Café&Meal MUJI
Light Summer Meal
"80% Full Health Concept"
Café&Meal MUJI adopts the Japanese concept of "Hara hachi bun me", which means that "eat until you are 80% full", using a variety of seasonal ingredients and simple cooking methods to provide diet which is "just enough". Summer menu is now available from 21st June, Café&Meal MUJI uses fresh vegetables and fruits to prepare different refreshing delis, light meals, desserts and special drinks, providing nutritional balance, nourishing to the body for an energetic summer. Found DELI Hokkaido continues into summer and presents the Hokkaido's local dishes with natural seasoning.
Light Summer Meal – "80% Full Health Concept"
The concept of "Hara hachi bun me" advises people to eat only until they are approximately 80 percent full. This concept is specially important for metropolitans who are busy with work and often dining out, hence not easy to maintain healthy eating habits. Follow the practice of "Hara hachi bun me" and avoid overeating helps lower calorie intake and ensures balanced diet for maintaining health.

Stepping into summer with the temperature gradually rises, we sweat to regulate body temperature and help body to stay cool during summer heat. However, when we sweat, we also lose protein, minerals such as sodium and potassium; and water-soluble vitamins such as vitamin C and B complex vitamins . Deficiencies of any of these may lead to fatigue, poor concentration and loss of appetite. Café&Meal MUJI provides a wide variety of hot and cold dishes made with seasonal ingredients including fish, meat, potatoes, eggs, dairy products, vegetables, seasoned with natural flavors such as balsamic vinegar and yuzu, bring us refreshing and pleasant taste, while also help to supply nutrients for an active summer.
Summer COLD DELI
Summer HOT DELI
Recommended Deli Choices
With more than 15 cold and hot delis available everyday, you may choose according to your preference, energy and nutrients needs and enjoy a nutritionally balanced diet.

Deli choices recommendation from Café&Meal MUJI :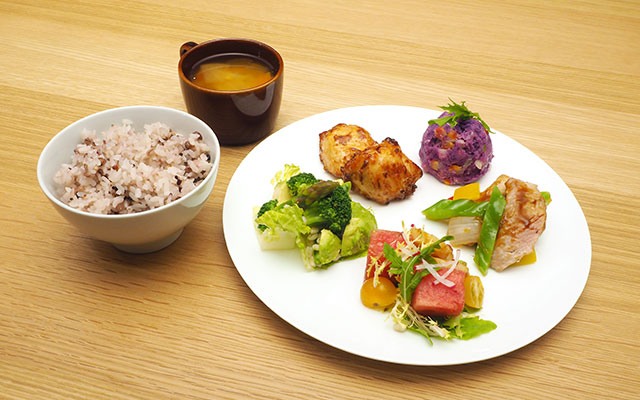 Healthy Summer Diet Tips
We can also make some changes from the following aspects to develop a healthy eating habit while following the practice of "Hara hachi bun me".
Bland meal with fresh ingredients
Eat more vegetables or salads but less irritating or oily food. Use fresh ingredients to replace the processed foods and prepare the meal with the simple cooking methods such as boiling, steaming and stewing.
Maintain the principle of "less oil, salt and sugar" and "more vegetables"
Choose meals which use less seasoning containing high salt or sodium such as MSG, soy sauce, salad dressing or other seasoning sauces. Eat more vegetables for sufficient fiber intake.
Drink more water for improving metabolism
Not enough water intake may slow down the metabolism. Drink more water and eat water-rich vegetables as a snack to replenish B complex vitamins, minerals.
Replenish vitamin C
It is recommended to eat more fresh fruits or drink fresh juices to absorb sufficient vitamin C and water and it can help relieve stress and improve your mood.