MUJI Daily Wear
Coordination Ideas for Spring and Summer
Drawing seasonal fabrics, simple design and natural colours together, MUJI introduces a series of comfortable and durable daily wear items supporting a plain yet versatile coordination for different occasions.

This spring and summer, enjoy the comfort brought by natural materials such as organic cotton and linen, simply by coordinating a shirt with well-fitted denim as your everyday outfit.
Cotton Shirt as the
Spring Basics
Shirts are one of the most representative daily wear items of MUJI. Since its first launch in 1983, MUJI had been striving to improve its shirt design in terms of materials, weaving method, interlining of collars, sleeves and buttons to satisfy customer needs. The continuous product improvement has brought to us today's MUJI shirts, which are less prone to deformation with enhanced comfort.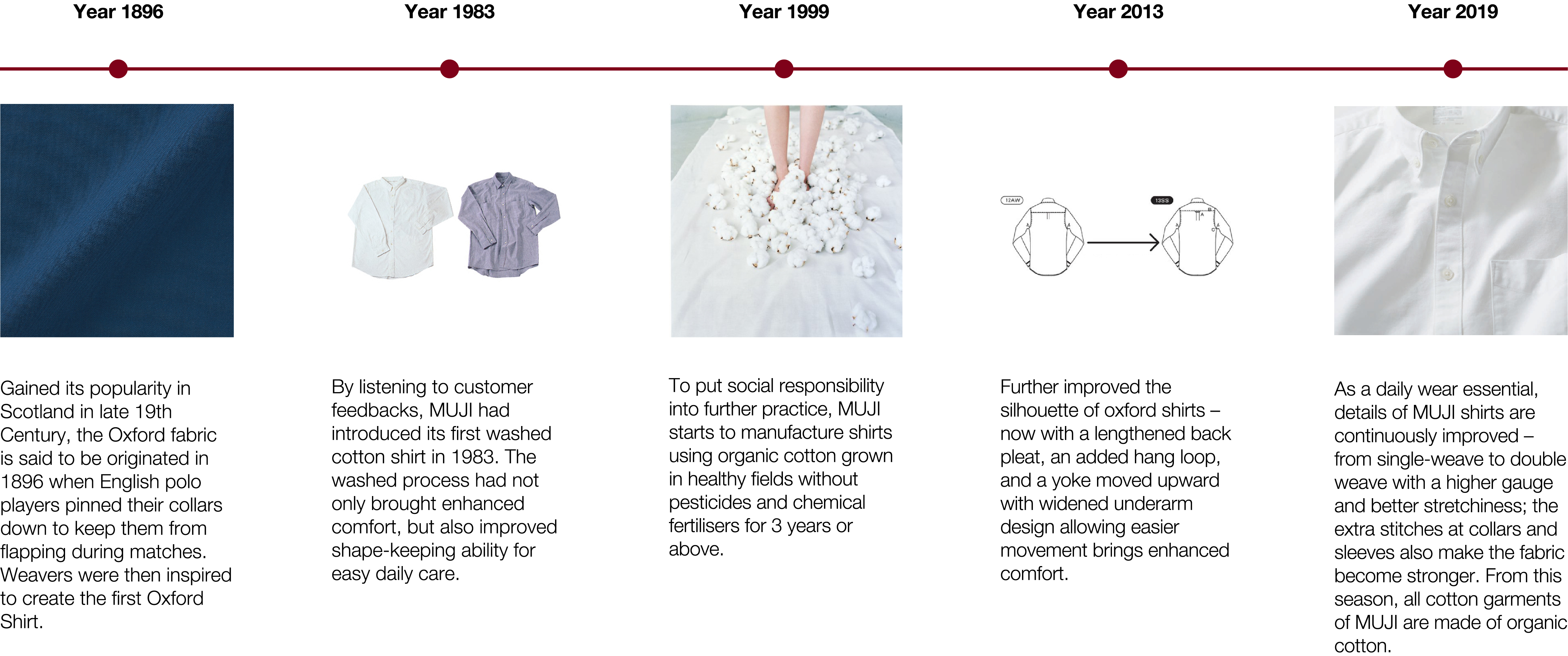 Shirts for Work and Leisure
With over a hundred years of history, Oxford Shirts are common to find in any men's wardrobe. Made of organic cotton delicately and wholly handpicked in Xinjiang, the men's Oxford Shirts of MUJI are soft and breathable with a clean design, fitting well as a shirt or as an outer. For ladies' shirts made of washed cotton, the natural texture is accompanied by different collar designs such as stand collar and button down for flexible daily coordination.
The New 4-way Stretch Denim
The design of MUJI garments emphasises on functionality and comfort. This season, the revamped denim series "4-way Stretch Denim" made of 100% organic cotton has improved the silhouette for well-fitted comfort at waistline and the leg.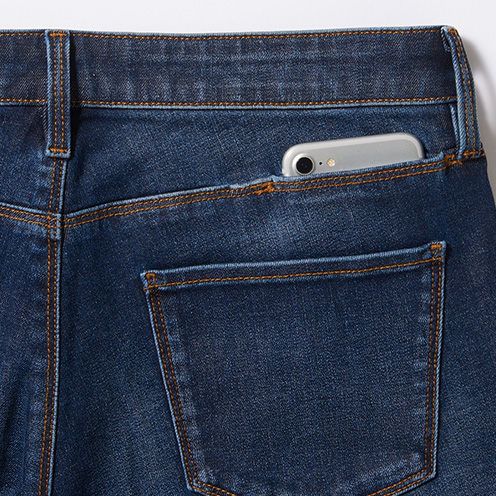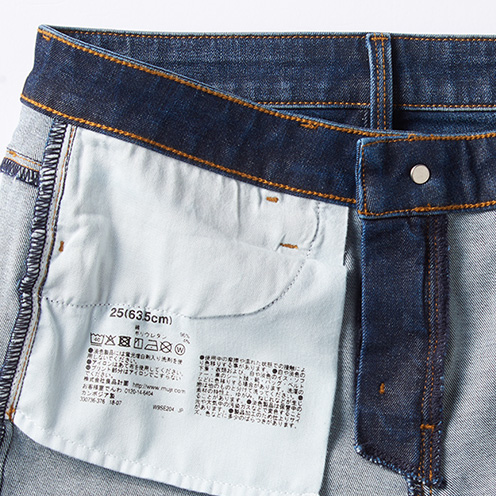 The Everyday Comfort that Fits
The revamped denim series presents 3 different fits including skinny, slim and straight for men's, with 4 including skinny, slim straight, boyfriend and wide for ladies. Simply put on a basic shirt with a pair of denim jeans in suitable fit according to your body shape to sharpen your daily wear outfit.
Linen for Spring and Summer
Linen has long been regarded as an important material in textile industry. Extracted from plant fibres, the function of linen is similar to that of human skin which regulates temperature and thus cools down the skin. With its naturally silky surface, linen is highly breathable and dries easily, which makes it perfect to wear in warm and humid seasons. Starting from this season, a new source of linen in Xinjiang, China, northern to the Taklamakan desert will be used on certain ladies' linen items. This highland farm on 1,800 metre of Tianshan is less prone to pests and thus grows healthy organic linen with clean water source from snowmelt. Enjoy the unique natural texture of linen garments this season.
Refreshing the season
Linen garments are lighter yet stronger in shape than those made of cotton, which naturally sharpens your daily outfit. The unique texture is further illustrated after repeated wearing and washing. Make use of different items such as outer, shirt, blouse and wide pants in mild seasonal colours to freshen up this spring and summer through versatile coordination.
Men's French Linen
V Neck Cardigan
Men's French Linen
Washed Short Sleeve Shirt
Ladies' French Linen
Easy Wide Pants
T-Shirts as a
Summer Essential
The Summer Comfort
Made of organic cotton in different weaving methods, T-shirts in different thickness and textures are brought to you as a basic item for summer. For men, you may put on a polo shirt to enjoy a greater variety in coordination of your summer look.
Useful Accessories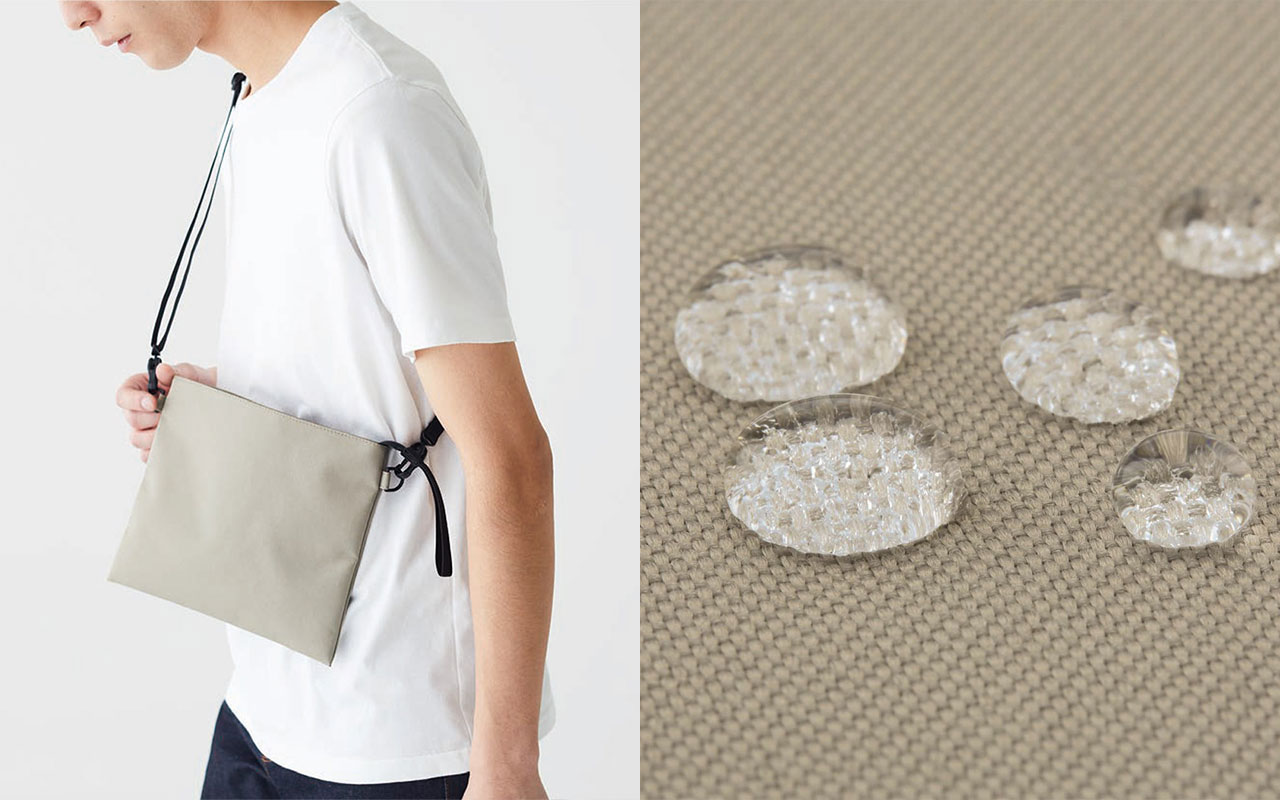 When it comes to daily outfits, accessories are more than decorations – they serve useful functions as well. In today's world where mobile phones can fulfil most daily tasks, many people only grab a phone when they hang out. The newly launched sacoche, waist pouch and mini backpack are lightweight and compact in size, yet large enough to keep essential personal belongings such as mobile phones and wallets. The water repellent processed surface makes it suitable to be used in the upcoming rainy season.