Living is the interaction between human and matter. Inventions such as cutlery, storage items, and bicycles are all examples of tools to improve and increase the efficiency of our daily lives. MUJI designs products stemming from the users' point of view, developing more than 7,000 items ranging from clothing and household goods to food, reflecting life in its most basic form and bringing comfort and convenience to people of different cultures and background. "What is MUJI?" Exhibition to be held from August 17 to September 5, 2018 at MUJI Harbour City demonstrates MUJI's most iconic products and illustrates the concept behind their design.

Merits and shortlisted designs of the "Product Design Project 2018" in collaboration with Hong Kong Design Institute will also be exhibited, demonstrating the discoveries of the students' "Searching and Finding".
About "What is MUJI?" Exhibition
MUJI was founded in 1980. Its origin was a thorough rationalization of manufacturing process to create practical and quality products at reasonable price. We examine products through three lenses: material selection, process streamlining and packaging simplification. For instance, MUJI uses the light beige paper resulted from the removal of pulp bleaching for its packaging and labels. The simple packaging can better communicate product features and help MUJI earn resonance and recognition throughout Japan and worldwide. Through the process of "Searching and Finding", MUJI unearths daily necessities that satisfies users' needs, unravels the value behind, keep the quintessence while making modification, and allows it to better integrate into one's daily life, bringing heightened comfort and convenience to their users.
About "Product Design Project 2018"
To encourage students in examining the intrinsic elements of daily life and utilise their observation in designing products that are common to everyday use, MUJI Hong Kong collaborated with the Department of Architecture, Interior and Product Design of Hong Kong Design Institute and held the "Product Design Project 2018". Riding on the theme of "Essential Product Design for Daily Life", students were invited to submit household goods design proposals. After the final screening held in July 2018, 10 design works were chosen by panel judges which all aim to share with one the discoveries of "Searching and Finding".
"Product Design Project 2018" Merits Introduction
Gold – Portable Umbrella Storage Case
Yau Man Kei
An umbrella storage concept to encourage environmental protection. The Portable Umbrella Storage Case is made of strong ABS material preventing oxidation. The inner layer is made of water repellent PVC nylon and diatomaceous earth with absorbency is added to the base of the case to protect it from odour and bacteria and prevent leakage of rain water. A buckled strap is attached to the body so that it is easy to hang onto tote bags, backpacks or even pants.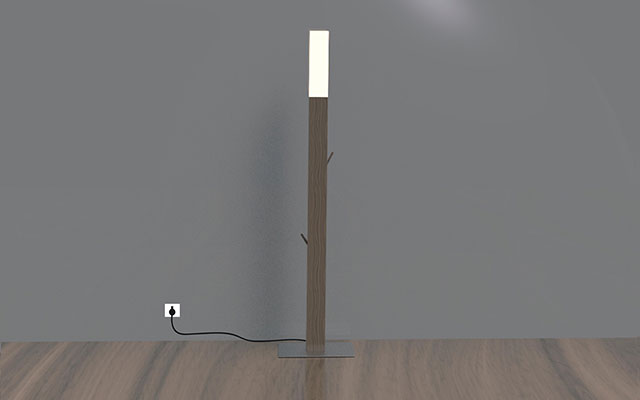 Silver – Floor Lamp
So Yuen Yi
Use the Dual-purpose Floor Lamp anywhere at home to provide home lighting, also creating space for hanging clothes and accessories. The wooden stand emits colour and style with natural temperament. Collapsible hooks are attached at different heights for hanging. The iron base is crisp and simple, while the lampshade is made of frosted plastic for a tender glow and warm feeling.
Bronze – Oak Wood Storage Chair
Wong Chi Kin
Multi-purpose furniture items help increase a home's storage capacity and enhance spaciousness. The Oak Wood Storage Chair serves as a chair as well as a wardrobe. The chair surface is made of strong polycotton with good air permeability, while the body is made of oak wood for durability. Storage baskets placed inside the chair can be flexibly arranged according to item sizes.
Finalist
Tachi

Lau Tsz Chun

The limitation of conventional pen stands lies in their inability to fix the placing location of each stationery item with different sizes and shapes. Even with categorised compartments, it is still inconvenient to access necessary items.

The space inside this pen stand is filled with elastic material like foam to hold items of different shapes more tightly. It has 5 compartments to fit different stationery and allowing easy stablization of items. One side has been specifically tilted to 30-degree based on ergonomics, making effortless access to the needed items.

Velcro Storage Combination

Tsang Wai Chun

The design is inspired from the storage bag used on the seat backs of cars. The home environment is like the inside compartment of a car - you need to make use of the limited space flexibly in order to store scattered accessories in daily life.

Made of durable, lightweight Cordura material, the Velcro Storage Combination can be hung on back of seats or walls. You can attach storage bags in various volume for different purposes. It is also foldable for easy storage.

Mini Tea Table Set

Chan Yan Yu

Enhance comfort at home with different types of furniture. I have an aspiration in allowing users to sit aruond on the floor enjoying a nice conversation.

The Mini Tea Table Set is useful all-around. Open the box to take out the cushions easily. Cushions are donut-shaped to increase air permeability. Non-slip features are added to the bottom for enhanced stabilization. Pine wood in combination with translucent plastic material on the body blends easily into any interior decor.

Toybox

Liu Yin Lam

Combining entertainment and education, the Toybox allows children to learn while having fun.

Comes with a blackboard for children to express their creativity. Wheels are attached at the bottom to function as a toy car. With ample storage space inside, it is a good tool in encouraging discipline in children while organising their own toys. The inner faces of the box is vividly colored to attract children's attention, whereas the cotton rope in front of the box makes it convenient to pull around.

Triangular Table

Pang Lok Man

It is a usual practice for Hong Kong familes to keep a dining table for four at home, even homes are small and the table might not be frequently used. In view of this, I have designed a table in triangular shape to suggest a better use of limited living space.

Two heights are available for users to use as a unit according to their needs. It can be placed at room corners or beside the bed. You can also piece them together to act as a tea table. In addition, it can be used with PP boards to create storage space.

Umbrella Storage Box

Kong Chun Yip

In light of concerns that rises from overusing disposable bags or making the floor wet during rainy days, the Umbrella Storage Box has been created to bring forward a possible solution in umbrella storage.

The easy-to-carry Umbrella Storage Box is made of water repellent PP material with strong and lightweight features. First, attach the storage container box near the handle of umbrella. Next, wrap the canopy and push the storage box forward to store the umbrella. To use the umbrella, simply open the storage box and the umbrella and fix the storage box back to the handle. Easy and simple.

Mitsu Kao no Sofa

Wong Chun Yin

I hope this multi-purpose design can help users save space in storing furniture items.

The design concept lies in "Simplicity", "Convenience" and "Flexibility". The sofa, consisting of several MDF boards and 6 seat cushions, can be puzzled together in various combinations such as a table or bed. Made of linen, seat cushions are breathable and dry easily, decluttering the cleaning process. The overall design and color tone is warm enough to blend into most home environment.

Comment Sharing of Panel Judges

Mr. Nozomu Okada

It is good for students to observe their surroundings more often and be inspired through daily life for generating more insights in order to develop solid and practical design idea. In addition, it is also necessary to consider users' needs, but first of all, we need to remind ourselves that we are also users of daily goods.

When emphasizing the idea concept of your design, it is important to design with the principle of "less is more" while avoiding adding many elements in your design. Truly simple and good design will convey the strongest message at the end.

Mr. Daniel Chan

A great design is defined by the extent it helps to solve daily problems. Living in an ivory tower offers no help in truly understanding user's practical needs. Part of what it means to be a successful product designer are passion, aggression in design and not being complacent.

"Product Design Project 2018" provided a real opportunity for students to try out their designs as to whether they really can solve problems encountered in daily lives. We hope that through this project, students can develop greater interest in product design.

Mr. Ron Leung

As product designer, the ability to discover and identify problems is critical. Providing creative and sustainable solutions and infusing new quintessence into a product that has been around for some time are qualities a successful product designer should possess.

In "Product Design Project 2018", we can see good observation of needs in participating students through their designs. Many of them have sensitively identified common problems that one may encounter in daily basis while living in Hong Kong and endeavoured to provide sustainable solutions with a strong mind of environmental friendliness to echo the philosophy of MUJI. I was deeply impressed by their enthusiasm and have great expectation to see them becoming professional designers in the near future.

"What is MUJI"?" Exhibition

Date:

August 17, 2018 (Friday) to September 5, 2018 (Wednesday)

Venue:

MUJI Harbour City
L4, Ocean Centre, Harbour City

Opening Hours:

10:00 – 22:00