Denim pants made of organic cotton that is grown on fields without using pesticides and chemical fertilisers for 3 years or above.
Although the cultivation requires great amount of time,
this production method is friendly to the natural environment and producers which echoes to MUJI's product development principles.
In addition, the 4-way stretchable fabric fits your body,
allowing easy movement for daily activities.
100%
Organic Cotton
Cotton is one of the most precious natural resources to MUJI.
For more than 20 years, MUJI has been continuously working to increase the percentage of organic cotton used as cotton material in apparel and all cotton used in our apparel has become organic cotton since 2018.
Made of stretchable fabric,
making body movement more comfortable.
4 Way Stretchable for Easy Movement
Stretchable from all directions,
the denim fabric stretches following each and every body movement for enhanced wearing comfort.
Stretchable Waistband
Made of highly stretchable fabric, the waistband fits well with every movement, keeping in place even when sitting down for reduced stress on body.
Ladies' Denim

Silhouette: Relaxed
Waist: Slightly high-rise
Leg: Tapers down to the ankles
Length: Ankle length S・M (62cm), L (64cm), XL (66cm)

Silhouette: Skinny
Waist: Slightly low-rise
Leg: Well-fitted
Length: 70cm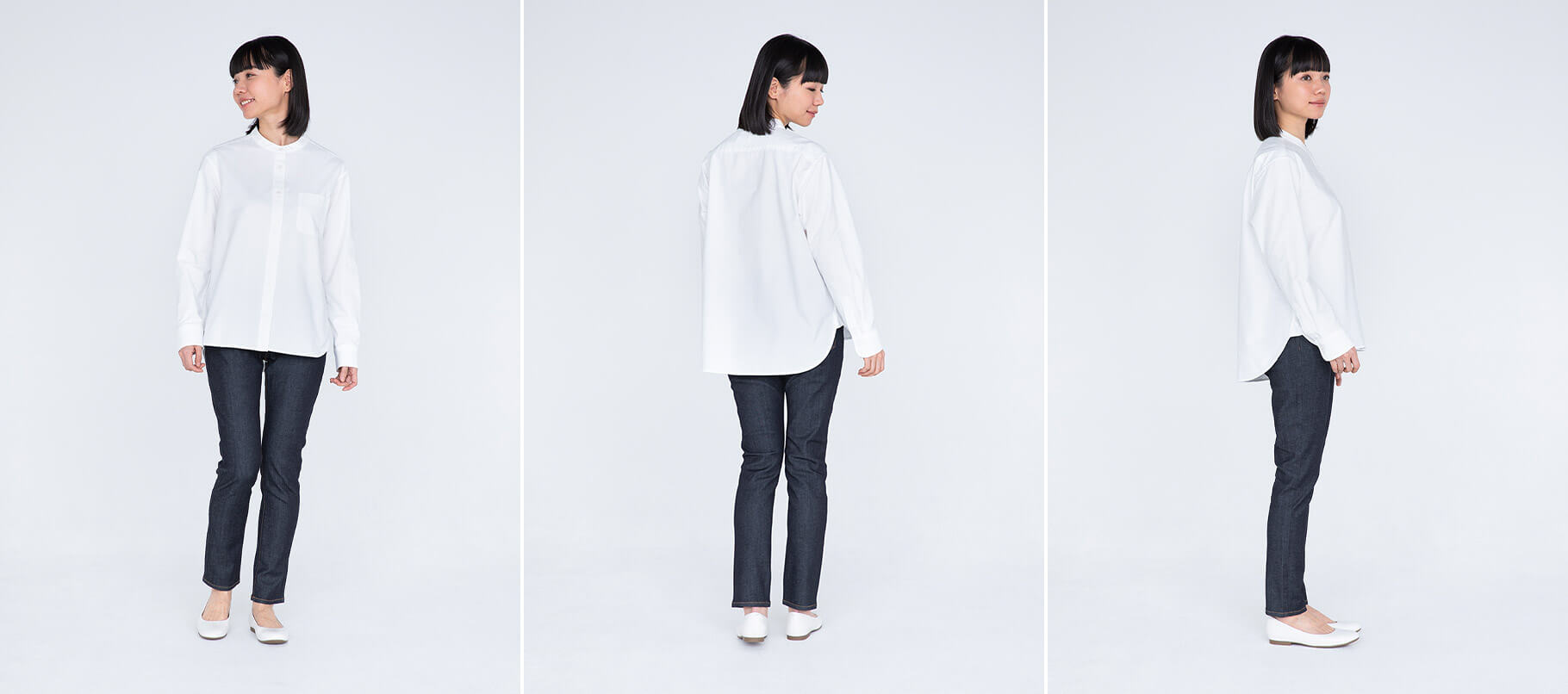 Silhouette: Slightly skinny
Waist: Mid-rise
Leg: Straight
Length: 70cm

Silhouette: Slightly relaxed
Waist: Mid-rise
Leg: Straight
Length: 70cm

Silhouette: Relaxed
Waist: Slightly high-rise
Leg: Straight
Length: S・M (64cm)、L (66cm)、XL (68cm)
Men's Denim

Silhouette: Skinny
Waist: Mid-rise
Leg: Well-fitted
Length: 76cm

Silhouette: Slightly skinny
Waist: Mid-rise
Leg: Straight
Length: 76cm

Silhouette: Loose-fit
Waist: High-rise
Leg: Straight
Length: 76cm

Silhouette: Slightly skinny
Waist: Mid-rise
Leg: Tapers down to the ankles
Length: 72cm