Hangers & Laundry Items
Select from our wide range of hangers and laundry items based on your daily laundry and storage habits for a more convenient, hassle-free routine.
Hangers
The width, angle, and size of our hangers are meticulously designed for a smooth user experience. Various styles are available so you can choose the suitable ones that cater to your laundry or storage needs based on the type and size of your clothes.
Aluminium Laundry Hanger
33cm / 42cm / 45cm
Aluminium is not easy to rust or erode, hence suitable for longtime outdoor use. The shape of hanger is carefully designed to prevent deforming of shoulder line.
Aluminium Hanger for Camisole
42cm
The shape of hanger is specially designed to prevent deforming of shoulder line. There are slots in both sides to prevent the shoulder straps of camisole from slipping off.
PP Laundry Hanger
33cm / 42cm / 45cm
With a diagonal slot, the hanger prevents stretching of neckline as you pull the clothes onto the hanger. It is especially suitable for T shirts.
PP Wide Shoulder Hanger
40cm / 45cm
The hanger is designed in a special shape to prevent stretching of the collar or shoulder line of clothes. A thinner style is also available to save the wardrobe's space.
Wooden Hanger
40cm / 45cm
Ideal for keeping seasonal items such as coat and jacket. The hook is made of aluminium material for easier matching of tonality with other hangers to make your wardrobe look more tidy.
Shop Online
Hangers are now available for sales at MUJI Hong Kong Designated Online Store at HKTVmall and foodpanda mall. Shop online for the hangers of your own needs anytime and anywhere.
Laundry Items
Various Laundry Nets and Hangers are available to fit your laundry habits and types of clothes, making your everyday laundry more convenient and pleasant.
Washing
Wash clothes frequently for hygiene. When using a washing machine, protect your clothes with a Laundry Net to help keep their original shapes so you can wear them longer.
Making laundry more efficient
Reversible Laundry Net
The reversible design of Laundry Net saves your time as you no longer need to distinguish the correct side. Each size of the net is attached with a ring in specific colour, allowing you to distinguish the types or wearers of the clothes.
Soak your clothes before wash
To enhance laundry efficiency, soak your clothes with diluted detergent before using a washing machine. The volume of PP Bucket is around 7.5L and the inner side features a scale indicating volume by litre so you can adjust the portion of water and detergent easily.
Drying
For hang-drying of clothes under different environments, Laundry Hanger with Pegs are available in a variety of sizes and styles for your flexible selection depending on the volume of clothes or the hang-drying location.
Carry your clothes with ease
Nylon Mesh Laundry Basket
Made of light nylon mesh material, it lets dirty clothes to stay ventilated and allows you to tell the amount of clothes inside. Attached with handles for convenient carriage of clothes, and can be stored easily by hanging or stacking.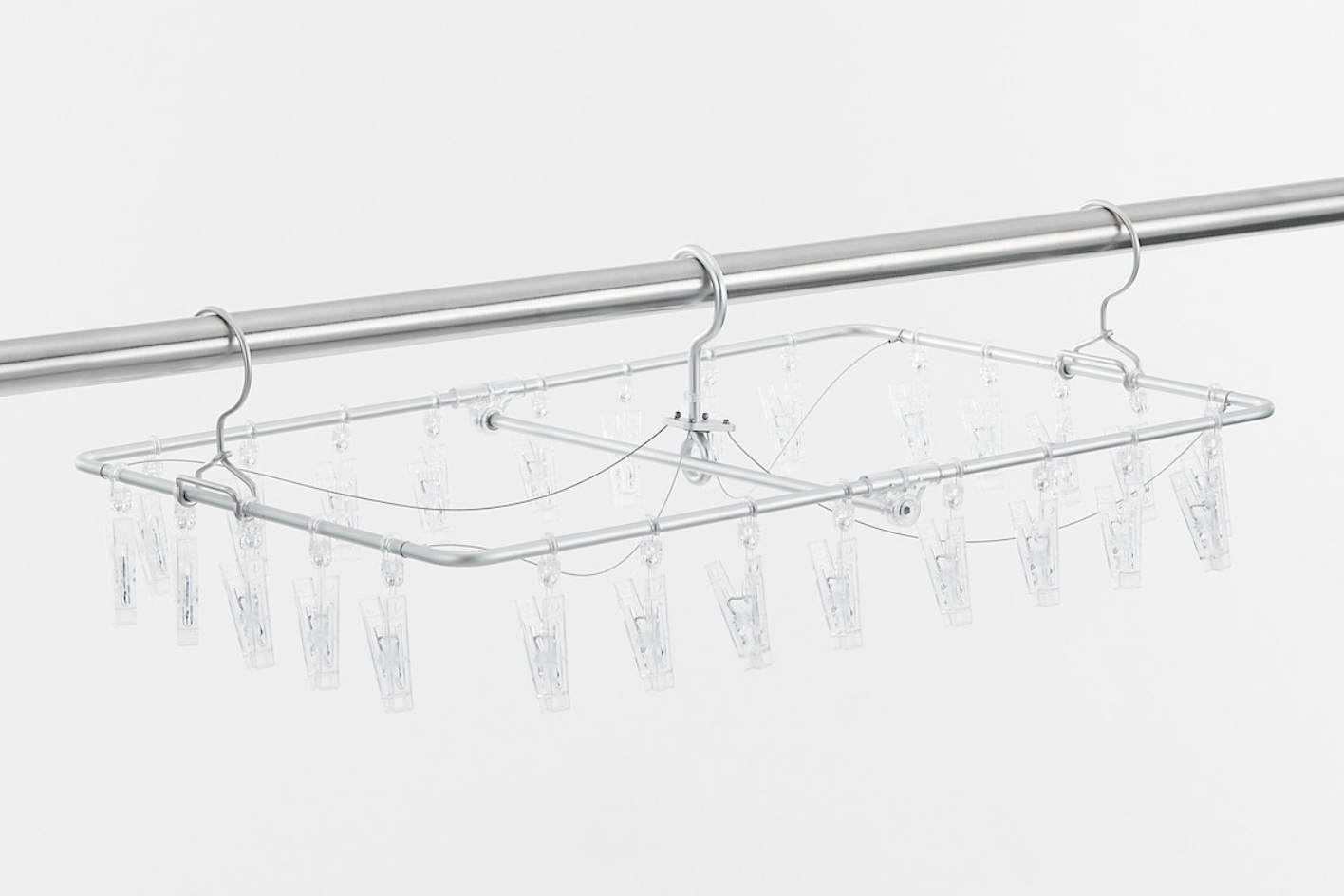 Lightweight and convenient
Aluminium Square Laundry Hanger with Pegs
The hanger is composed of lightweight aluminium frame and durable polycarbonate pegs. By attaching the Stainless Steel Raisers which are sold separately, the hanger can be used at lower places without letting the clothes to touch the floor.
Drying your clothes indoors
In rainy season, Aluminium Indoor Cloth Drying Rack makes a perfect solution for hang-drying your clothes indoors. To raise the drying speed, keep sufficient space between clothes or improve indoor ventilation by a circulator.
Storage
Return laundry items to designated storage area after each use. Keeping the tools in a good order allows you to take the needed items quickly every day you wash the clothes.
Efficient storage of laundry items
Storage Units
The size and shape of each laundry item can differ a lot. By using PP File Box or PE Storage, you can keep hangers and pegs together neatly. The white gray colour and standard size also help maintain a tidy, clean visual effect.