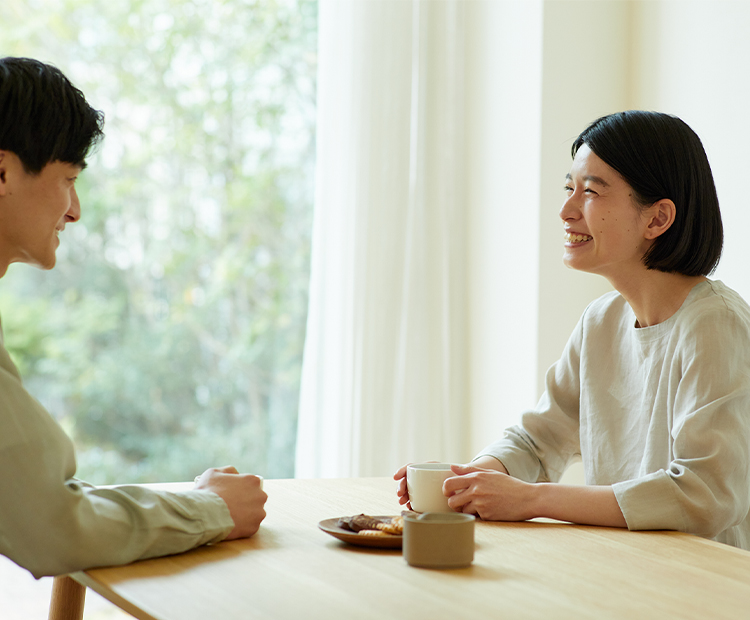 Durable, Breezy Everyday Clothing

Linen Wear
Linen is durable, supple natural material that becomes softer the more you wash and wear them. This spring and summer, let the moisture-wicking, breezy linen tops, dresses and pants accompany your everyday life and enjoy comfort all day long.
MUJI's Linen and Hemp
Unbleached, Natural Colour

The term "natural" for linen and hemp does not refer to their colour but the fact that they have not been bleached. To allow our customers to enjoy materials in their natural state and in view of the environmental pollution caused by bleaching, MUJI is pleased to offer a range of items made with natural materials.

Durable, Breezy Everyday Clothing

Linen is one of the strongest fibers in nature. As linen fibers become stronger when moist, you can look forward to a softer material and deeper texture the more you use and wash linen fabric.

Environmentally Friendly

Linen is derived from fast-growing plants that can be cultivated sustainably with almost no pesticide and little water. These plants also improve the quality of the soil in which they grow, making linen an environmentally friendly material.
A Variety of Linen
Linen

Excellent permeability to air and moisture absorption/desorption, durable, and dries quickly

Hemp

Features natural antibacterial and UV-blocking properties

Jute

Stable material suitable for making bags for grains, due to its stronger fiber and lower elasticity as compared to linen
Dresses
Designed with loose, three-dimensional silhouettes for spring and summer styling.
Shirts/Blouses
From best-selling stand collar shirts to half-sleeves blouses, a range of linen tops is available for your daily styling to enjoy different look and feel. Unisex Knot Button Long Sleeves Shirt is also available.
Sweaters/Cardigans
These items are processed with UV-blocking technology, making them ideal for warmer seasons when UV rays are a concern. They are washable at home, so you can keep them clean at ease. Available in a range of basic colours for easy styling with bottoms.
Pants/Skirts
Available in slim-fit, straight, and wide cut, our linen pants are featured with rubber waistbands for enhanced wearing comfort. Our linen skirt has a straight cut which helps flatter your body shape.
Living with Linen
Linen fiber, is one of the strongest among natural fibers.The more you wear and wash it, the softer it gets.The followings are tips for enhancing the durability of linen wear.
Washing

Linen gains strength when wet. The more you wash it, the more you experience its unique texture. Avoid using bleach and whitening agents when washing linen as they may damage the fibers and cause discolouring.

Drying

Linen is easy to iron as long as the garment is stretched and smoothed while drying. Linen fibers are hollow, moving air and moisture naturally, allowing it to dry easily in well-ventilated places.

Ironing

To iron linen, it is recommended to smooth out small creases on the inside before you iron the front. A buffer such as a pressing cloth can be placed between the hot iron and the linen garment to prevent flattening them to the point of creating a shine.

Storing

Linen is best stored in cool and dry places to prevent mold growth. Steer clear of plastic and wrap them in thin paper to allow air circulation and preserve the integrity of the fabric.