Steeping into summer, MUJI brings you seasonal daily apparel, household, and food & tableware items, freshen up you with a cool and pleasant summer.
Daily Apparel and Accessories
Stay cool and fresh in summer
Strong and supple. Linen gains elegance and soften every time you wash and use it. The airy and breezy texture of linen wear brings you enhanced comfort in the summer. Men's wear is available in jacket, shirt and shorts while Ladies may choose from blouse, shirt and dress. With natural and soft colour tone, linen wear is easy to be mixed and matched with other items for a working or leisure look.
Cool and breathable
Jersey T-Shirt, with moderate thickness, is ideal as both outfit and inner clothes; Coarse T-Shirt has a firm and airy texture to give extra comfort. Uneven Yarn T-Shirt is woven with yarns of different thicknesses, keeping you cool and dry feeling in summer. Stretchy Anti-Sweat Stain Ribbed T-Shirt has sweat absorbent materials to make it suitable to wear for outdoor activities. Short Sleeves T-Shirts are available in plain colours and border pattern for various occasions.
Feel comfortable all day
A T-Shirt made with soft, stretchy polyester helps absorb sweat to keep you dry feel dry and comfortable all day. It is a choice for light exercising in the heat.
Keep you dry and cool
The Smooth Innerwear Series is woven with yarns of different inner and outer density for better moisture absorption and emission. The fibres transmit moisture to the fabric surface to accelerate evaporation so you can feel dry and cool. The seamless design adds extra wearing comfort.
Stay cool and fresh in summer
Seersucker pajamas has a crinkled texture that creates a space between the fabric surface and the skin, bringing you a dry and breezy feeling. Designed without side seams to prevent disruptions or discomfort, the pajamas help improve sleep quality.
Japanese traditional homewear
Made of waffle fabric with an uneven surface that creates a space between the fabric surface and the skin to keep you feel dry and breezy.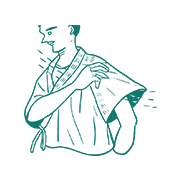 Fit the contour of your feet
Made of cotton mixed materials, the Right Angle Sneaker-In Socks naturally fit the contour of your feet. With moisture-wicking property, your feet will feel dry and comfortable all day.
Take a walk
The sole of the flat sandals is designed with careful consideration to provide support to the arch and balls of our feet ergonomically. Take a walk with a pair of sandals in an open area near your home occasionally to relax.
Easy to wear and carry around
Handwoven from natural fibres of the coconut plant by experienced craftsmen. The hat size can be adjusted, and the hat can be rolled and tied up with the attached ribbon for compact storage and easy carrying around. Blocks more than 90% of UV rays.

A companion for rain or shine
Made from fabric that blocks 93% of UV0 rays, making it ideal for keeping off sun or rain. With a total weight of 161g and a length of 22.5cm when folded, it is easy to carry around.