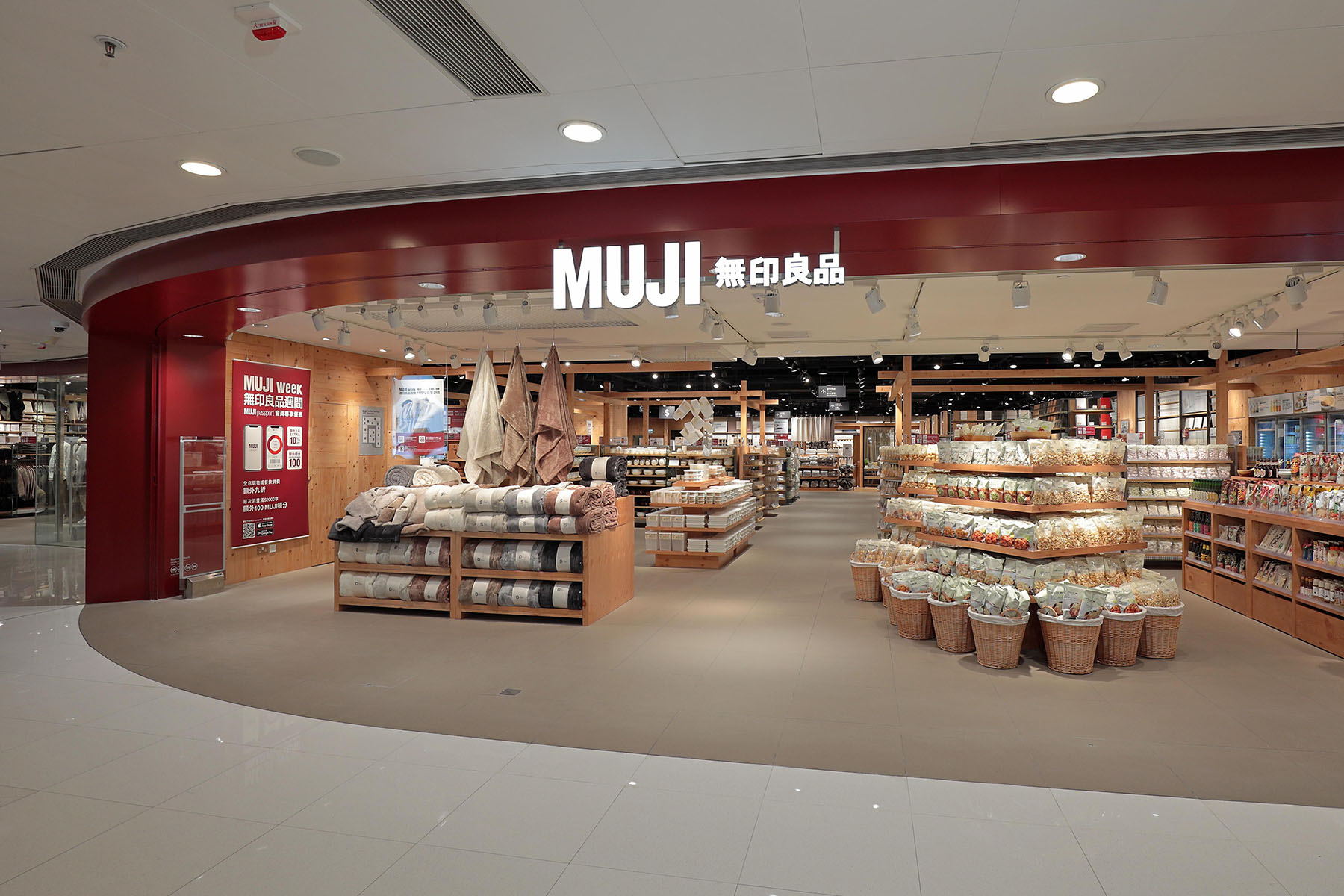 Relocated MUJI tmtplaza Now Open
The new MUJI tmtplaza store relocated from 3/F to 1/F is now open. With a doubled floor area of 9,600 square feet, the store features a more comprehensive product assortment consisting of men's and ladies' apparel, household items, food, as well as the addition of frozen food, selects from "Food Market", and children's wear, catering the daily needs of students, office workers, and families in the community.

Besides, as Tuen Mun is one of the major communities in the New Territories West Region, in consideration of residents' home living needs, the new store features a home living display area with the theme of "Storage, Comfort & Pleasant Living", demonstrating how to utilise the limited space of 300 square feet to create a functional living & dining room, bedroom, and storage room with plenty storage space. Our Interior Advisors serve to bring forward personalised suggestions for a pleasant home living by understanding your habits and lifestyle.
Frozen Food & Food Market Selects Now Available
Bringing More Choices to Everyday Dining
With reference to homemade recipes and cooking methods around the world, MUJI carefully selects ingredients and brings you over 50 types of frozen food under 8 themes including "World Rice", "World Stew", "Japanese Fish Dish", "Japanese Dim Sum", "Home Bakery", "Japanese Meat Dish", "Pan-fried Dish" and "Pre-cut Vegetables". Through simple steps like defrosting and heating, it takes only 5 to 20 minutes to prepare your favourite dishes. Visit tmtplaza store and try our popular items such as Pork & Vegetable Gyoza, Deep-fried Chicken and Kusadango.
The first "Food Market" was established in MUJI Telford Plaza store last year. It searches for the necessary ingredients in everyday diet from local, Japan, and worldwide from the viewpoints of MUJI. By examining the climate and natural environment of origins and understanding the cultivation and manufacturing methods, "Food Market" brings you a delicate range of staple food, seasonings, snacks and drinks, and introduces themed items by month so that you can enjoy seasonal treats. Selected items from "Food Market" are now available at tmtplaza store.
Enjoy Styling with MUJI wear Collection
Children's Wear Now Available
The new store has been expanded to include a more comprehensive product assortment of Men's and Ladies' Wear and Children's Wear in 50-150cm size for infants and children, catering to the needs of kids at different growth stages.
One-stop Shopping Destination for Daily Necessities
In addition to apparel, the new store also offers a wide range of daily necessities covering home fabrics, kitchen utensils, tableware, laundry and cleaning goods, personal care item, and stationery, speaking to the needs of different customers regardless of age groups and lifestyles.
Home Living Thematic Display Area
"Storage, Comfort & Pleasant Life"
Tuen Mun is one of the major communities in the New Territories West Region. With the completion of many residential developments in recent years, Tuen Mun has become home to many young families. To share MUJI's ideology of "a simple, pleasant life" to residents in the community, the new store features a home living thematic display area which aspires to bring inspiration to the interior arrangement of modern homes. The store is also the first in Tuen Mun and Yuen Long area equipped with Interior Advisory Service. Our Interior Advisors bring you personalised suggestions on storage, furnishing, colour coordination of fabrics, and interior space planning by understanding your living habits and lifestyle through direct communication, meeting your needs for a comfortable home living.
Share Interior Arrangement Inspiration
With the theme – "Storage, Comfort & Pleasant Life", our Interior Advisor uses simple-design, compatible MUJI Storage Furniture and Units to set up a functional living & dining room, bedroom and storage room, demonstrating how to effectively utilise the limited space of 300 square feet with sufficient storage space for a pleasant home living.
Living & Diving Room
Wooden furniture is used throughout the home to create a sense of harmony and unity and delineate the living & dining room and other spaces to ensure a sense of total possession. The Living and Dining Furniture Series features a shorter height for a roomier environment. The Stacking Shelf placed near the wall can be used for storing a TV, audio-visual equipment, household goods or decorative items, and it can also be used with Wooden Cabinets or Rattan Baskets to ensure storage privacy and natural temperament.

In addition, as most small and medium sized apartments are designed with open kitchens, a kitchen cabinet is displayed next to the living & dining room to provide ideas about organising ktichen utensils and cleaning tools.
Bedroom & Storage Room
The bedroom is furnished with a double bed and wooden cabinets for storing daily wear and bed linens. The rustic and natural feel of wooden furniture adds to the harmony and comfort of the bedroom, helping you to relax and enhance sleep quality.

Since it has become more common for apartments to be equipped with small storage rooms, the home living thematic display area also features a storage room of 50 square feet using Stainless Steel Unit Shelf and various Storage Units to create a practical dressing room for the occupants to store daily clothes in an orderly way.