Join us and discover the journey of MUJI as we reminisce its growth over the last 40 years.
Bringing to you "MUJI IS" book, which was curated in celebration of MUJI's 40th anniversary in 2020. The book features about 460 items out of all the products MUJI has released to date and summarized the thoughts of each product into 15 verbs. In the context of the book, an exhibition is curated – 'A walk in the forest of verbs with "MUJI IS"', presents visitors through a journey of MUJI's design ethos and product archives in a forest-like experience, centering around the 15 verbs.
Exhibition Period: 14 September - 2 October 2022
Opening Hours: 10:00 – 21:30 Daily*
*Due to a private event, the opening hours on 14 September will be from 14:00-21:30.
Venue: Toy8 Playground (T-216C, 3rd Floor, The Gardens Mall, KL) (Free Entry)

Organiser: MUJI (MALAYSIA) SDN BHD /
Planning Collaboration: MUJI Laboratory for Living /
Space Design:TORAFU ARCHITECTS Inc. / Graphic Design: Akiko Kurachi /
Exhibition Production: TOKYO STUDIO CO., Ltd. / Curation: Junko Suzuki /


Taking a walk with "MUJI IS"
In 1980, MUJI was established in Japan as an antithesis to consumer society, where capitalism and its logic were over-prioritised. Suggesting "good products" from a "no-brand" point of view, our action showing living aesthetics has grown on a global scale to achieve our concept of a "pleasant life": now we cover everything from products and ideas to people and social systems. We feel as if we were a young seedling now grown into a tree, becoming a part of the forest, and eventually of the earth itself.
In this exhibition, we invite you to take a walk into the forest of MUJI verbs selected from the "MUJI IS" book, each related to our products and activities that was developed in the last 4 decades.


引く・省く Hiku・Habuku (Subtract) / いかす Ikasu (Utilize) / 飾らない Kazaranai (Simplify) / 学ぶ Manabu (Study) / 問う Tou (Question) / 受け継ぐ Uketsugu (Inherit) / まとめる Matomeru (Bundle) / 整える Totonoeru (Organize) / 寄り添う Yorisou (Support) / 気づく Kizuku (Notice) / ゆだねる Yudaneru (Entrust) / 繰り返す Kurikaesu (Repeat) / 合わせる Awaseru (Combine) / 見立てる Mitateru (Imagine) / 試みる Kokoromiru (Experiment)


MUJI will accompany people throughout their lives with these verbs. Our ideas and actions will evolve further, as they always have done, with people all over the world.


About ATELIER MUJI GINZA
"ATELIER MUJI" was named by Ikko Tanaka, an internationally recognised Japanese graphic designer. Ever since, we managed the space in the MUJI Yurakucho store under the slogan "A workshop that provides clues on how to move into our future by looking back to the origins of our lives". Our activity looking to the future was reborn as "ATELIER MUJI GINZA", the very first intersection of diverse design culture in Ryohin Keikaku, on 4 April, 2019. In order to have Monozukuri (craftmanship) and design become firmly rooted as a part of Japanese culture, we must find, learn, create, preserve, and in some cases, break something. In the flow of time from the past, present and the future, while observing and listening to the world with our eyes and ears, we see that cherished objects are polished, handed on, and loved. For MUJI to stay true to MUJI itself, from now and into the future.

---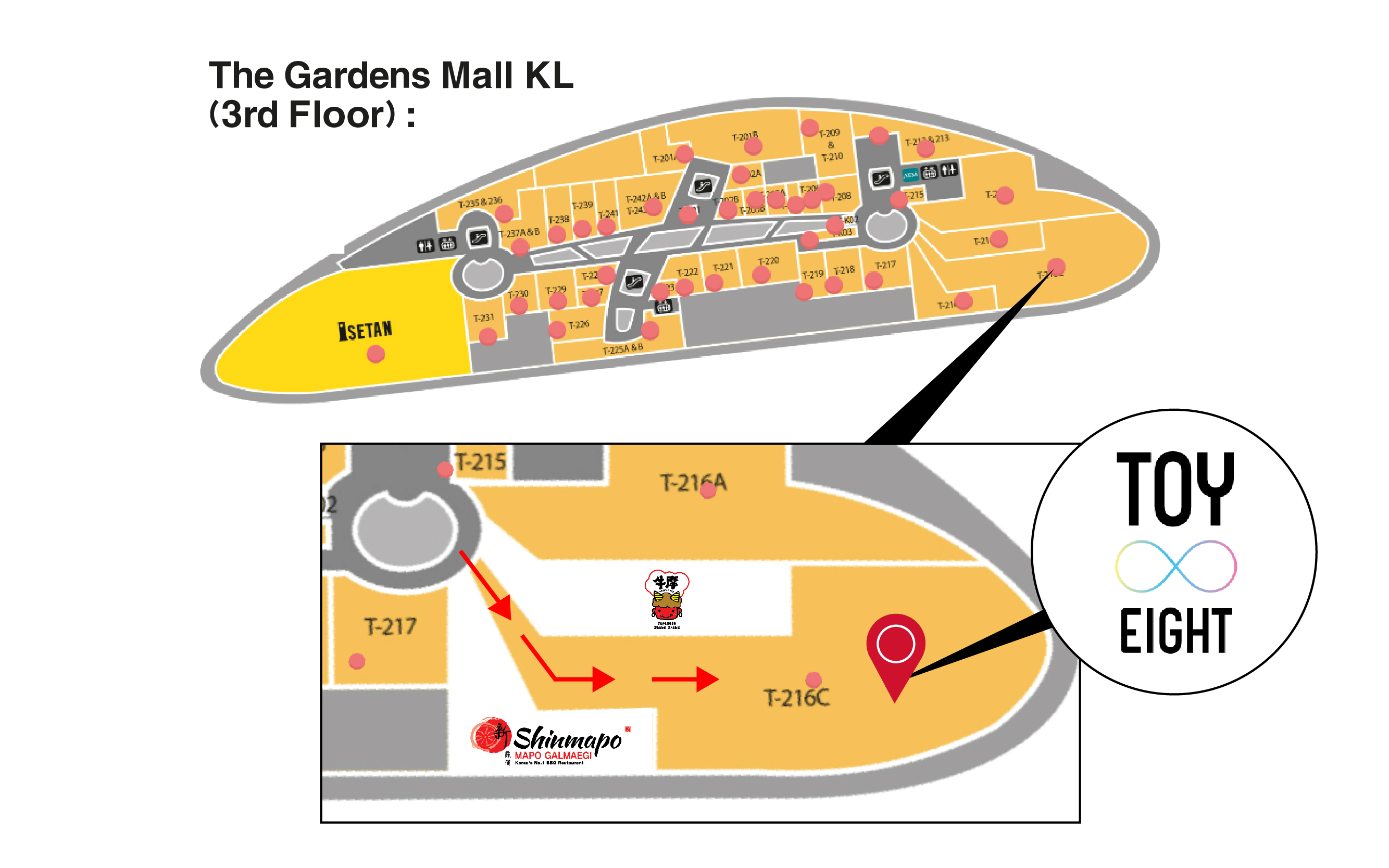 Getting to TOY8 Playground @The Gardens Mall
T-216C, 3rd Floor, The Gardens Mall, KL

By Car: Waze or Google Maps to The Gardens Mall.
By Train: Take the Kelana Jaya (KJ) LRT line to Adbullah Hukum station OR take the KTM to Mid Valley station.
By Bus: T788, T790, 781, 822, T817.
By e-hailing: Search for "The Gardens Mall Riverview Entrance".
Book
"MUJI IS" Book (English Version)
A 279-page book, issued by the MUJI Laboratory for Living* in celebration of MUJI's 40th anniversary in 2020. This book features an archive of MUJI products across the decades organized into 15 verbs, with each verb representing the thought process behind the creation of the MUJI product.

Grab a copy at MUJI Mid Valley Megamall
RM50.90/book

*MUJI Laboratory for Living is a research facility established within the company to reconsider the concept of "a simple, pleasant life" from a variety of perspectives and to advance together with customers.


When Objects Are Born, Verbs Come Alive.
MUJI. While our name was initially written with four Japanese characters reminiscent of a traditional 4-character phrase, today, the name MUJI is recognised in Europe, Asia and around the world. Why? Simply put, MUJI offers an array of objects that are useful for daily living, supporting a more simple, pleasant life.
MUJI began with 40 products. In 2020, in honour of MUJI's 40th anniversary, we began researching the reason behind the more than 7,000 MUJI products that have been developed over the years, creating a MUJI archive. We considered several ways to classify the products for the archive, such as a linear timeline or by product category. In the end, we decided to focus on the motives behind each product's development and have arranged this book accordingly.
Each item created by MUJI can be organised in terms of the verb that represents the thought process behind its creation. There is a reason behind every product that is created by MUJI, and that reason can be explained with a verb. We felt that by using verbs to express how the thoughts and ideas of the creators are transferred to the user, an overall image of MUJI would emerge.
This book is a collection of MUJI products, organized around fifteen verbs. We hope that you will be inspired to see how a single item can be tied to several verbs, or how these verbs are leading us to the beginnings of a better society.


Kazuko Koike
MUJI Laboratory for Living