sustainability
Thoughts from the
birth of MUJI
Since MUJI was founded in 1980, we've been manufacturing from three perspectives: "Selection of Materials", "Review of Processes" and "Simplification of Packaging". We choose materials that take into account the global environment and producers, eliminate waste in all processes, and provide customers with what they really need in the form they really need.
MUJI was born of an unwavering mindfulness towards the allure of the natural, delivering functional basic necessities in life without the frills and excess packaging - in genuine colours, in natural materials, in unbleached papers and cloth.
Reducing Plastic Bags Wastage
Do away with single-use plastic! In the spirit of reducing waste and conserving resources, we would like to encourage all customers to bring your own bags, reuse our brown paper bags or purchase our range of reusable bags and carriers while shopping at MUJI.
Turkish Cotton My Bag
---
These bags are made of 100% organic cotton and are convenient to fold and carry. Add a touch of personalization with fabric crayons, stamps, or embroidery. Thin and sturdy, they make great gift bags too!
Indian Cotton My Tote Bag
---
A basic tote bag made of canvas with just the right thickness. The usage of undyed natural fabric help kept the price down. Made without wasting fabric by using less complex processes and parts, it boasts a simple design with ample storage capacity.
Indian Cotton Double Handle Tote Bag
---
Made of 100% organic cotton. It is a light yet sturdy two-way canvas bag that lets you alternate between the long shoulder strap or carry it easily in your hands. The boxy design is able to hold a large capacity of bulky items for your everyday use.
Indian Cotton Double Handle Tote Bag
Water Repellent My Tote Bag
---
Simple design, the bags are made of a water repellent material, useful for rainy days. Designed to avoid wastage, it has a roomy capacity with functional pockets to maximize storage. Easily fold them into a compact size for storing when not in use.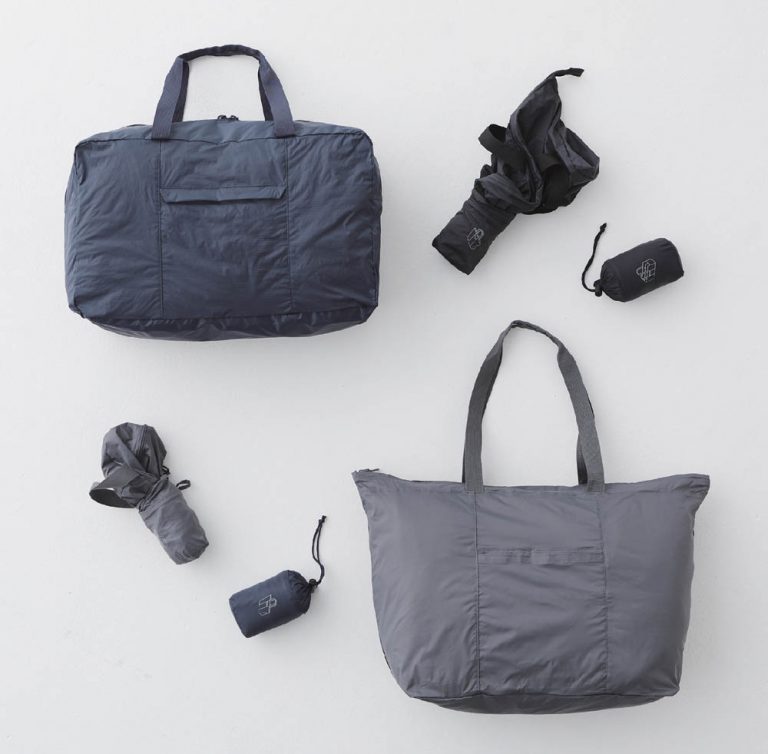 Paraglider Cloth Foldable Bags
---
Pocketable bags available in a range of designs are made from the same fabric used in paragliders. Lightweight and durable, it folds up to a compact size when not in used.
Jute Bag
View Video
---
A multipurpose eco-bag made from undyed jute while maintaining the natural look. Not skimping on comfort, the handle uses a cushioned core material that is comfortable for both shoulder carrying and hand holding, while the wide opening allows for more storage capacity.
A natural material harvested from India, jute is an environmentally friendly and fast growing plant that absorbs a great deal of carbon dioxide. Known for its extreme durability, jute have been used as an ideal material for grain sacks, rugs, and other products since a long time ago.
Swipe for more inspirations on using your Jute Bags!