[Open MUJI] Composition – Rules within objects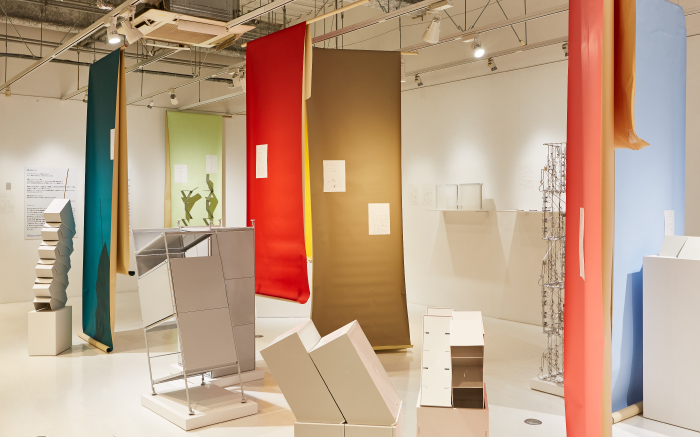 Composition – Rules within Objects
13 July — 26 August 2018
Opening Hours | 10:00 — 22:00
Venue | Open MUJI, MUJI Plaza Singapura (Free Entry)
Imagination, Creation, Shapes and Forms
One of the talents we human beings have is the capability of imagination.
Once creativity is applied to this imagination, a shape or form comes to life.
We as visitors to this exhibition, together with its creators, will experience thoughts about objects and their creation in this particular time and space. This experience will give us an opportunity to renew our potential for inner creativity.
In the artist's world, an "instruction sheet" means a set of assembly instructions which are filled with "matter", far from its original intended use for MUJI products that are developed, manufactured and sold in the stores.
If we make an artwork from some "things" or products by following the artist's instructions as rules, the resulting shape or form may vary from person to person.
When imagination meets creation, resulting in a certain shape or form, we may be able to encounter a brand-new side of ourselves through these objects.
Credit
Organiser: MUJI (SINGAPORE) PTE LTD
Planning collaborator: Motohiro Tomii 
Site design: HIGURE 17-15 cas 
Graphic design: Tadao Kawamura (ten pieces) 
Cooperation: Yumiko Chiba associates 
Planning: ATELIER MUJI/ Planning & Design Creation Office, Household Division, Ryohin Keikaku Co., Ltd.
▼ Motohiro Tomii
Born in 1973 in Niigata, Japan. Based in Tokyo. Tomii creates sculptural artwork using ready-made materials with minimal modification and looks at possibilities of giving "sculpture" a new form and meaning, working within the restraints of the objects he uses in his sculptures. For Tomii, creating artwork is "a quest for 'a quality of incomprehensibleness" that he aims to reflect in his creations. In 2013, Tomii participated in the group exhibition "Omnilogue: Your Voice is Mine" co-curated by East Asian  and Japanese curators at the NUS Museum, National University of Singapore. Tomii also stayed in New York, U.S. between 2015-2016 under the overseas study program for upcoming artists of the Agency for Cultural Affairs.
Take a guided tour!
Date: 14 July, Saturday
Time: 11.30am, 12.30pm, 2.30pm
No participation fees required
Suitable for age 13 and above
Duration: around 30 minutes
The guided tour is conducted in English. 
Please register your interest by 9 July:  https://goo.gl/MQxvY6
Confirmed attendees will be contacted via email/phone.