[Open MUJI] Khadi: Against Industrialisation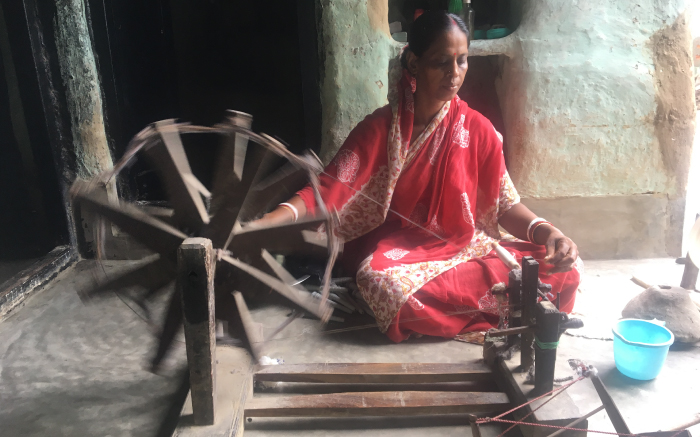 Khadi:
Against Industralisation
31 August — 28 October 2018
Opening Hours | 10:00 — 22:00
Venue | Open MUJI, MUJI Plaza Singapura (Free Entry)
Exhibition supported by MUJI Global Sourcing Pte. Ltd.
---
Antithesis of Commercialism
Nowadays, our markets in the world are full of many kinds of products. The purpose of making products had become "to sell", but before, the purpose of making products was "to use". This is the result of commercialism.
Products of huge quantity demanded by big retailers command a waste of valuable resources and handiworks, but handmade products albeit not meeting huge quantity, satisfy a comfortable quantity for consumer use resulting in less unnecessary wastage and disposal.
It is true that our world had become more convenient due to industrialization, however, MUJI who has started as antithesis of commercialism sees beauty of handicraft products which could not be replaced by industrial products. This had led to the exploration for handiworks that still exists at each parts of the world and to introduce them to you. Khadi fits in this modern world, being a handspun, handwoven fabric that represent the soul of anti-commercialism.
Discover Khadi
In this exhibition, we showcase Khadi in its original, unembellished form that are handspun and handwoven. Join us in uncovering the traditional cloth making process and the unique fabric that can be said to be the origin of India textiles. As we gravitate towards mass-produced goods in this modernized world, we should still remember that the beauty of handwork must not be replaced by industrial products. 
For fine yarn count, the cotton fibers are made into silver before the spinning process
Ladies working on the Amber Charkha.
Hanks are soaked in starch for a night, and then spun by the wheel to ensure penetration.
Warping process, where the yarn goes through parallel winding as they are put onto warp beam.
Two weavers working on the handloom, preparing for weaving.