Different heads for different purposes.
A cleaning experience is made pleasant when you've got the right tools at your disposal.
Keep your cleaning process stress-free and efficient with the right array of cleaning tools.
Cleaning System
Cleaning Products System with replaceable head
Products with the Cleaning Products System mark can be combined with a variety of heads and handles depending on your needs.
*Please refrain from using wooden handles and short wooden handles in water.
Adjustable to suit your needs.
Polish
The more you polish things, the cleaner they get. Polishing is one of those cleaning tasks that you'll want to upkeep. Sometimes you don't notice the dirt on places at eyesight level. Dirt also tends to accumulate in the crevices of the kitchen and bathrooms, especially around water. It's always the narrowest of crevices, so polish every inch and feel better after doing it.
For cleaning crevices
Just right for cleaning drains and water bottle gaskets. A series of point brushes, spatulas, and sponges for cleaning crevices and narrow spaces.
Organize your supplies

Polypropylene file boxes help you stock up on replacement tape and sheets for cleaning supplies. Small pockets are included for easy access and storage of gap-cleaning brushes and other items that can be placed upright. A wide range of sizes and shapes are available to give you more ideas for your storage needs.
Cleaning
Cleaning for the next time you use it. Let it dry after cleaning. In our daily life, there are many occasions when we have to clean things, and it's always the frequently used places such as bathrooms, kitchens, bathrooms, and toilets. As soon as you're done using these places, you can continue to feel good by cleaning it for the next day!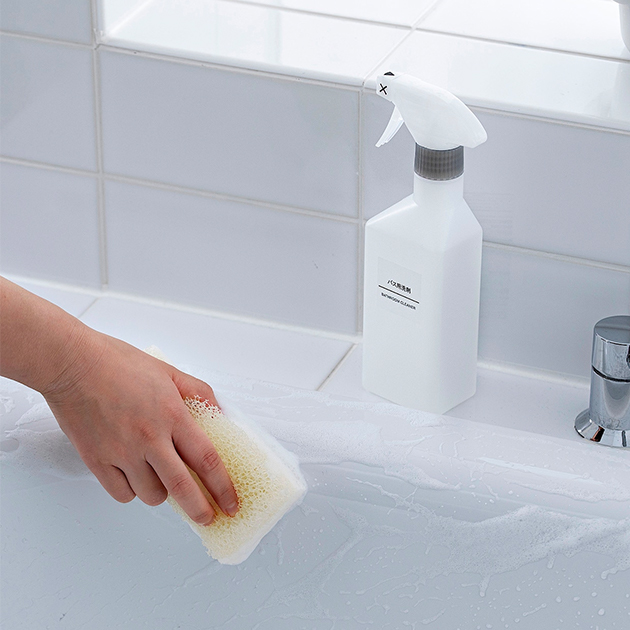 Keep it drained and sanitary
This is a 3-layered bath sponge made of two types of urethane foam with different sizes of air bubbles and non-woven fabrics. Fine air bubbles produce thick foam and are easy to wash with, while coarse air bubbles soak up water and keep things clean.
Remove dirt from wet places and crevices
The pointy brushes can reach the joints of tiles, faucets, gutters, window frames, and other small areas. The handle fits effortlessly in your hand and is easy to grip, and its angle makes removing dirt simple with just the right amount of force. If you use the built-in holes, you can hang it on a hook to drain the water more easily.
White blends in with the kitchen
A white sponge that keeps the sink area clean. A slightly longer rectangular shape makes it easier to hold and wash glasses and lunchbox corners. The rough textured side is good for removing water and hygiene, while the finer side is good for foam release and foam retention.
Use it with ease in your kitchen and for your floors
No special chemicals or surfactants were used, so it's safe for use in families with small children and pets. After spraying it on, simply wipe with a dry cloth to remove the dirt.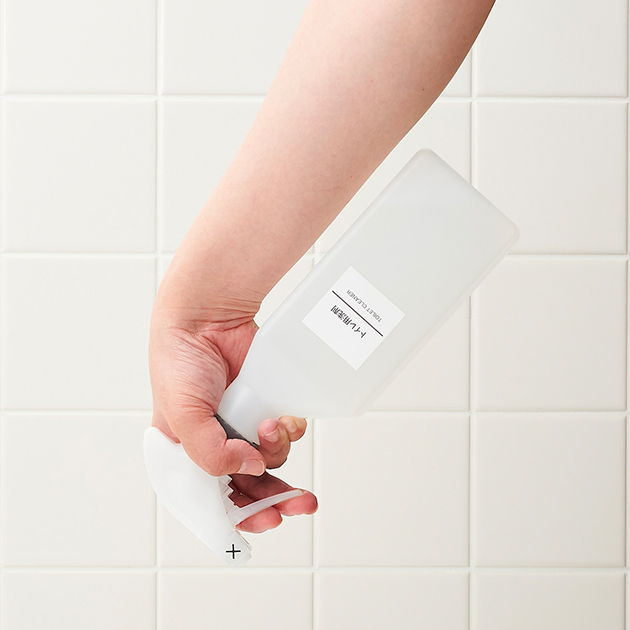 Using the spray bottle upside down
Plant-derived detergent consisting of only the necessary ingredients for cleaning, which is gentle on the skin and is decomposed by microorganisms after it is drained away. The spray bottle has a trigger which allows for upside-down use. Fragrance-free and colourless, this detergent can be used to clean toilet floors and walls, toilet bowls, toilet seats, and more.
Use a detergent that is gentle on your skin

As it's something we use every day, we've created a detergent that is gentle on the skin and environmentally friendly. During this process, we thought of both the person using it for washing, and the person using the washed things. No flavours, colours, fluorescent brighteners, or bleaching agents. Nothing but the utmost required ingredients for a detergent and softener.
Organizing
Collect and organize dust and rubbish that is produced as we live our daily lives. A trash bin (dust box) is one of the things we want to make look as inconspicuous as possible when placed in a room. Put the trash can in the kitchen, living room, or near your desk, depending on when, where, and how you use it.
Pick between two sizes
Neatly keep things where they need to be
This trash bin is just wide enough to fit into a narrow space and is shaped to fit next to a wall. The light gray colour doesn't make too much of a statement, so it can blend in with a wide range of places. You can easily move it around and clean under the bin with casters (sold separately).
Choose the lid according to your needs
Five types of lids are available. Vertical, horizontal, and a cover type, allowing you to choose the type that best suits your needs.
For putting away things

The dust box with a choice of polypropylene lids can be used as a storage solution without a lid. You can place the things you need for working from home vertically, so they fit neatly into the space under your desk or table. It's also a great way to organize your room.
Here are some everyday life tips.
To make your time at home more enjoyable, stretch while cleaning.
At MUJI, all employees spend 5 minutes in the morning cleaning up around themselves.
The idea is to make effective use of your daily cleaning routine by incorporating stretching into it This "Stretch Clean" video was the result.
Take advantage of the "Stretch Clean" program, which allows you to clean your surroundings while staying sharp-minded in between studies and work, a 2-for-1.