Home for Two
As a home for two, the 1.5-bedroom unit uses a light colour tone to brighten up the living space.

A large Wooden Stacking Shelf storage unit is setup along the wall to provide sufficient storage sapce. The upper open storage space can be used for displaying commemorative items, bringing personal characteristics to the living room, while the lower storage units can keep all sorts of home commodities neatly.

Match with other light shades furniture such as a beige sofa and Oak Wooden Chairs to create a spacious feeling in a limited space.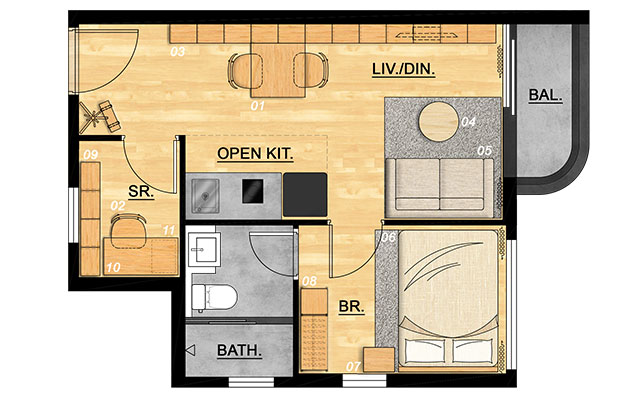 ---
Studio Flat
Flexibility is the key for designing Studio Flats, meeting various needs of the owner by versatile and functional storage furniture.

A small Wooden Stacking Shelf between the sofa and the bed provide storage space as well as division between living and sleeping area, maintaining privacy without sacrificing spaciousness.

The lightweight and convenient Stainless Steel Stacking Shelf has a high degree of flexibility, which can be re-organised and re-locate easily to according to usage change while utilising interior space.
---
Family of Three
Abundent comfortable seating area and an AV rack formed by Wooden Stacking Shelf is setup in the living room to facilitate the family time of the 3 family members.

To accommodate each family member's needs, Stainless Steel Unit Shelf can be used in the master toom and the kid's room as wardrobe, side table or even mini study desk.

While Walnut Wood Furniture and dark colour sofa create a calm, mature atmosphere, the green plants, bright colour walls and home fabrics help maintain a sense of balance and liveliness.