A Good Night's Sleep
A good night's sleep is essential for modern metropolitans. For an invigorating morning, we not only need sufficient hours but also quality sleep. A comfortable environment is key to enough rest, minimizing fatigue and rejuvenate the body and mind.

There are many factors that affect a good night's sleep. Through observing our sleeping habits, we can find out reasons of fatigue and try to minimize them. Below are some descriptions regarding sleep. If you are in-line with most of them, sleep probably isn't much of a problem for you; If you don't fit most of them, then there's room for improvement in your sleeping quality.
Can fall asleep naturally after lying down on bed for 15-20 minutes
Can sleep every 24 hours
7 – 9 hours of sleeping duration
Regular sleeping pattern of sleeping at 10 – 11 pm and waking up at 5 – 6 am
Sleeping peacefully without waking for long duration
Alter your bedroom to the condition that suitable for sleeping like dimming down the lights or adjust the room temperature
Re-energized and rejuvenated when waking
Efficient and easy to focus on daytime activities
Choose Suitable Bedding for Better Sleep
Through understanding one's sleeping habits and choosing suitable bedding, we aim to help build quality sleep and rest every day.
Mattress
The time span for a mattress is usually between eight to ten years. Here are 4 factors when considering changing your mattress:

Firmness: Test with your hands whether the mattress is sagging. If it is, suggest to replace.

Noisy Springs: Springs that squeak when you move is a sign that the coils are worn and no longer providing the support they should.

Signs of Wear and Tear: Signs of wear includes sagging in different areas, making you uncomfortable in bed.

Body Condition: Mattresses are where majority of dust and allergens are, weakening your immune system ; If you wake up sore and stiff, your mattress might be having signs of wear, suggesting replacement.
Besides changing a mattress, using a mattress protector against dust and mites, get your pets their own bed, flipping your mattress or changing the position may help lengthen the lifespan of the mattress by combating body perspiration and protect against settlements and indentations. Finding the right mattress and with proper use will offer a healthier environment for sleeping.
Wooden Bed
MUJI's wooden beds with simple design and natural wood colour blends well into any home interior. Make use of the under bed space to tidy up your bedroom and improve your bedroom environment for better sleeping quality. All beds are available in the size of Single, Semi-double, Double and Queen.
Quilted Pad
Hong Kong has a humid temperament, keeping your bed dry is very important for daily hygiene. Putting a bed pad on your mattress could help absorb body moisture in order to reduce the breeding of bacteria on the mattress surface. It is machine-washable with a laundry net. A rubber band is attached under the bed pad to keep the bed pad in place.
Pillow Covers, Fitted Sheets and Duvet Covers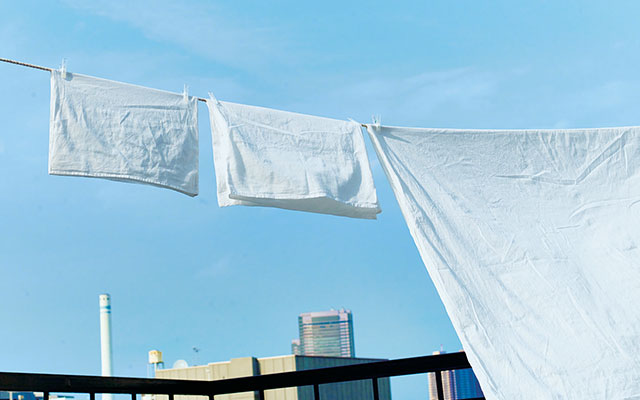 Pillow covers, fitted sheets and duvet covers are bedding items that needs constant washing in the hot and humid summers. Choose from different bedding items made of natural materials for various seasons or a bed set suitable for all year round.

Choose your favourite bedding set according to its texture and stiffness for a good night's sleep. Range from the breathable Organic Cotton Seersucker, Linen Plain Weave or Linen Cotton Grid Seersucker to the soft Organic Washed Cotton, Organic Cotton Pile Blanket. Thin blankets and pajamas are available for certain materials as well.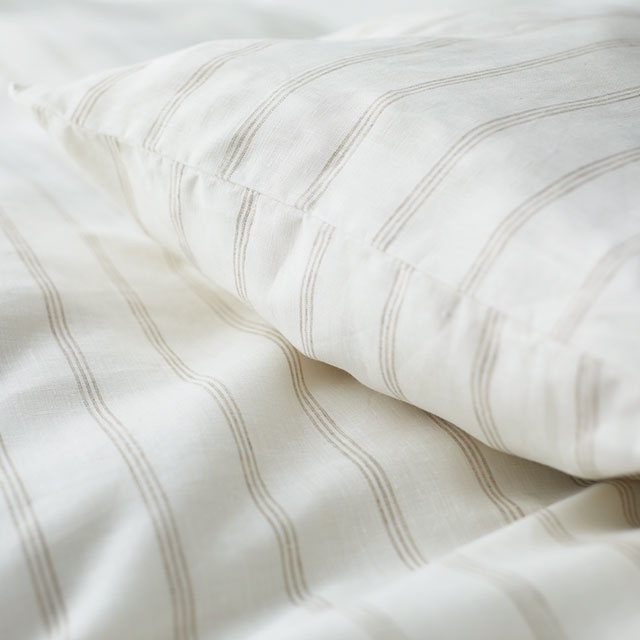 Pillows
Choose pillows that provide sufficient support for the neck with a suitable height, so that your spine doesn't go out of alignment for quality sleep.

Pillows need constant changing similar to other bedding items. If you pillow becomes stiff, it might be time for replacement. However, durability varies among pillows made with different material. Down pillows usually last for 2 years and above, while fiber / cellulose pillows usually last not as long. Regular replacing maintains quality sleep.

Choose a suitable pillow for a good night's sleep.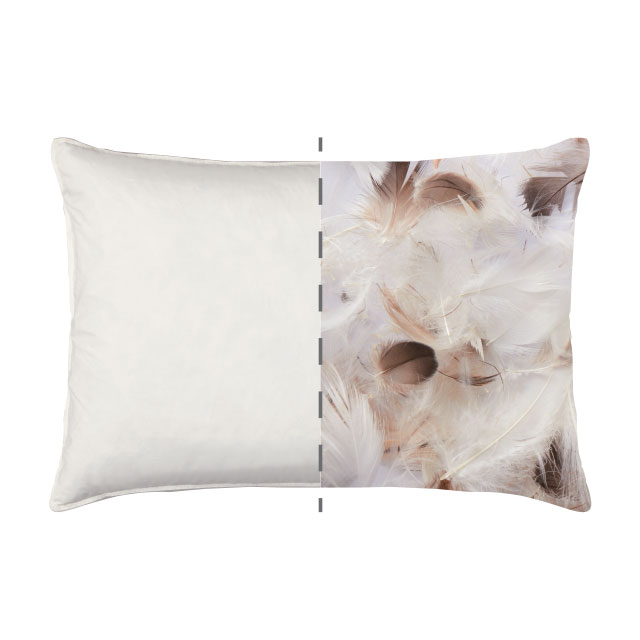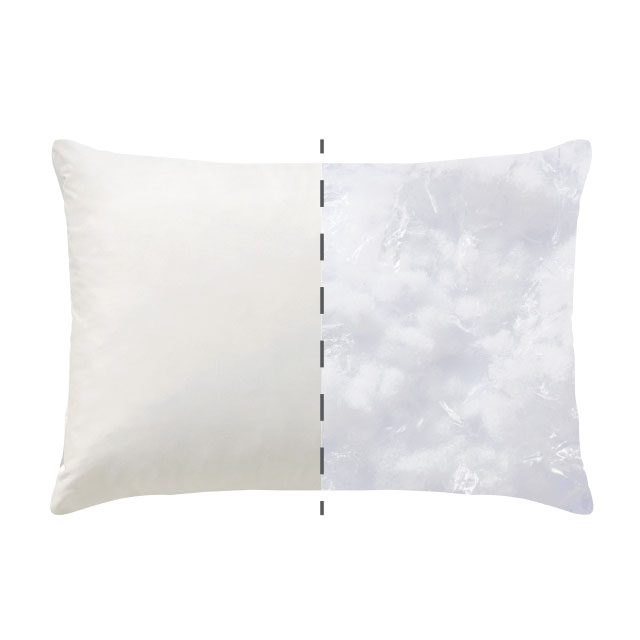 Duvet and Blanket
Consider whether to change your duvet covers according to the weather and season. A good set of bedding is able to adjust your body temperature during sleep with their material and thickness.

A thicker towel blanket or comforter is suitable when a lower indoor temperature is necessary to reduce moisture ; While a thinner duvet is good when fans are in use instead.
Changing Your Sleep With Your Bedroom
Adjust your bedroom temperament from light, scent, temperature and humidity by new bedding, essential oils, fans and pajamas, bringing you a good night's sleep.
Aroma
Relax with aroma diffusers and aroma stones in the bedroom for an easy sleep.

If a night light is preferred, the aroma diffuser comes with a 2 stage light adjustment, bringing a gentle glow in the darkness.
Fans
Suitable sleeping temperatures are 18 – 20 Celsius. Adjust your indoor temperature with fan to help with air circulation, providing a comfortable sleeping environment.

Low-noise fans can keep your surroundings quiet, bringing you a good night's sleep.
Pajamas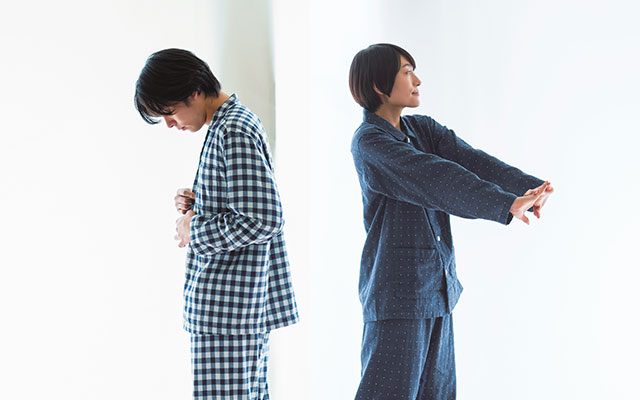 To maintain a cool and comfortable living environment, pajamas is also an important factor. Pajamas made with natural material and excellent moisture-wicking properties can allow you a good night's sleep.

To maximize sleeping comfort, MUJI's pajamas with seams eliminated will reduce friction between the fabric and skin. Washing Care label is also printed directly on the fabric to prevent discomfort. With jersey, double gauze or waffle weaving, MUJI brings you a range of choices to suit your personal needs.