Interior Case Study - Colour Matching for Dark Furniture
Dark-tone furniture is stylish. Its colour can help hide stains, but also add dullness to the interior. When using dark furniture, it is recommended to add contrasting light-tone elements to enhance the balance of the entire space. This flat uses walnut wood furniture and dark-colour sofa to create a calm and mature atmosphere. Meanwhile, bright walls, light-colour home fabrics and green plants are also applied to bring liveliness to the home.
*Images of this case study are generated by 3D simulation.
Case Background
Interior Space: Two-bedroom Unit
Size: 560 sq. ft.
Residents: Family of 3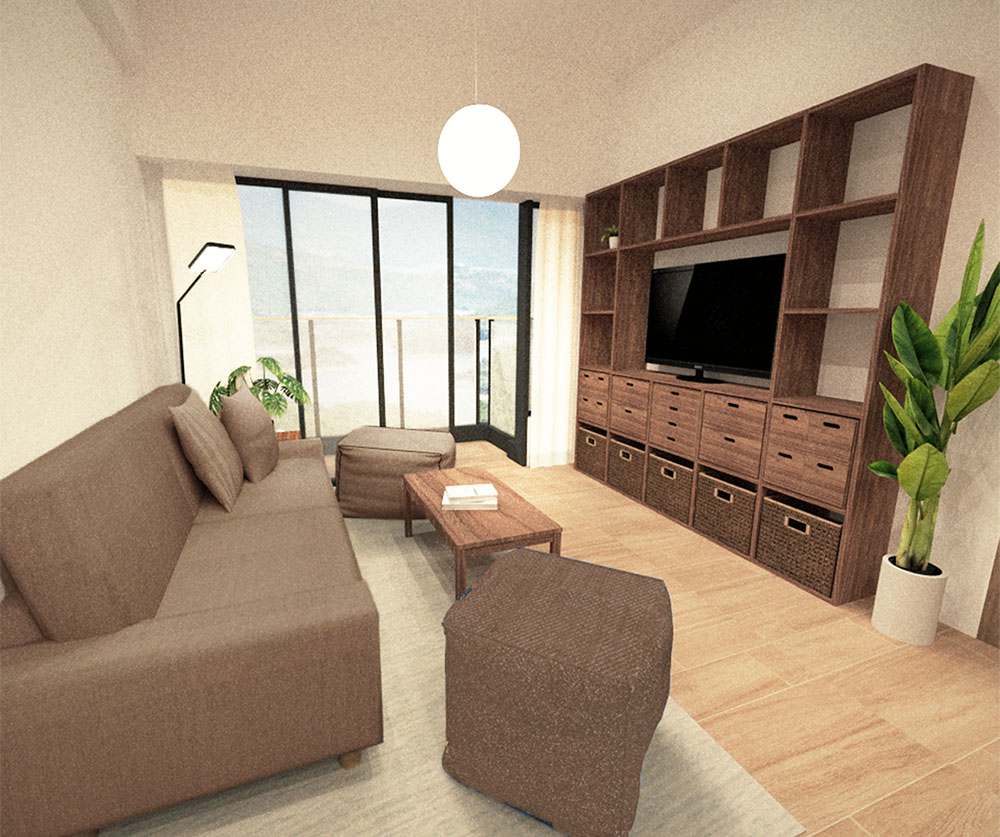 Living & Dining Room
A relaxing space composed of a 2.5 Seats Sofa, Bead Sofa and AV Cabinet made with Wooden Stacking Shelf makes a perfect area for family members to spend time together. Although dark tone is adapted for overall interior design and a wall-size Walnut Wood Stacking Shelf is used, the use of light-colour floor, walls, carpet, and soft lighting can make the room feel spacious.
Urethane Pocket Coil Wide Armrest 2.5 Seats Sofa / Walnut Wood Low Table / Beads Sofa / Walnut Wood Stacking Shelf
Bedroom
Stainless Steel Unit Shelf is used in both master bedroom and kid's bedroom. Through flexible combination of boards and accessories of different height and width, Stainless Steel Unit Shelf can become a wide range of furniture ranging from wardrobe, bedside table to desk etc. for organising family members' belongings according to their storage needs. Even if the lifestyle habits or storage needs change in the future, the shelf can be transformed into another piece of furniture by changing the combination.
Stainless Steel Unit Shelf with Walnut Wood Board / Walnut Wood Bed Frame Double / Walnut Wood Storage Single
Interior Advisory Service
Recommendations on MUJI Furniture and Storage Units that efficiently use your space for a neat and comfortable living environment.