Interior Case Study - Versatile Home
Among various options of renting, studio flat is a popular choice among younger generations in recent years. Considering possibility of moving out, using furniture with simple design and high flexibility in combination allows user to use the same set of furniture in different interior environment in the future. While studio flat offers an unrestrained use of space with an open floor plan, good interior space planning is needed to ensure efficient use of available space.
*Images of this case study are generated by 3D simulation.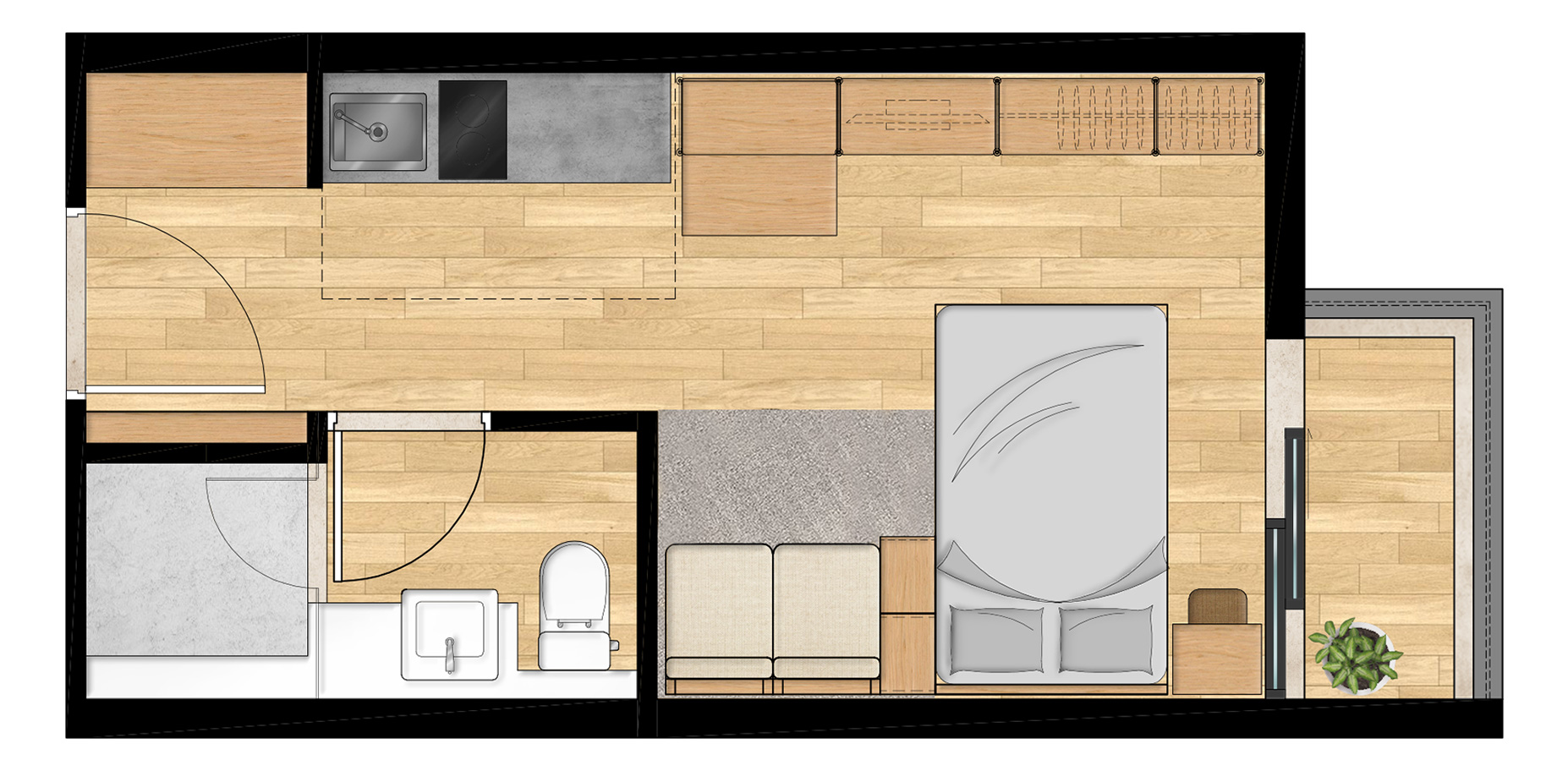 Case Background
Interior Space: Studio Flat
Size: 230 sq. ft.
Residents: Family of 1 - 2
To keep storage at one location and prevent scattering of belongings, a set of Unit Shelf is used to form a storage system combining AV rack and wardrobe together. Designed in standard modules, Unit Shelf helps organise your room in a tidy way by creating storage space systematically. Its form can be changed flexibly by re-arranging optional parts such as panels and boards, and using together with wardrobe bar and different storage units to suit your changing home living needs for an efficient use of available space. It is an ideal choice of furniture regardless of interior environment, location and usage.
Stainless Steel Unit Shelf / Hard Pulp Box with Lid / Cotton Linen Polyester Soft Box
A 3-layer Wooden Stacking Shelf is placed between the sofa and the bed. It can be used for keeping frequently used daily goods, or served as a small partition for enhancing privacy without blocking the view. The Living Dining Chair has a lower seat height to make the room feel more spacious. It can be used independently as a chair, combined as a sofa, or used together with Living Dining Table and Living Dining Bench, depending to the usage needs.
Wooden Stacking Shelf / Oak Wood Bed / Oak Wood Living Dining Chair with Armrest
The bottom part of the Unit Shelf is kept idle to reserve space for the dining table. When the dining table is not in use, it can be placed under the shelf to save storage space.
Wooden Table / Unit Shelf
Interior Advisory Service
Recommendations on MUJI Furniture and Storage Units that efficiently use your space for a neat and comfortable living environment.