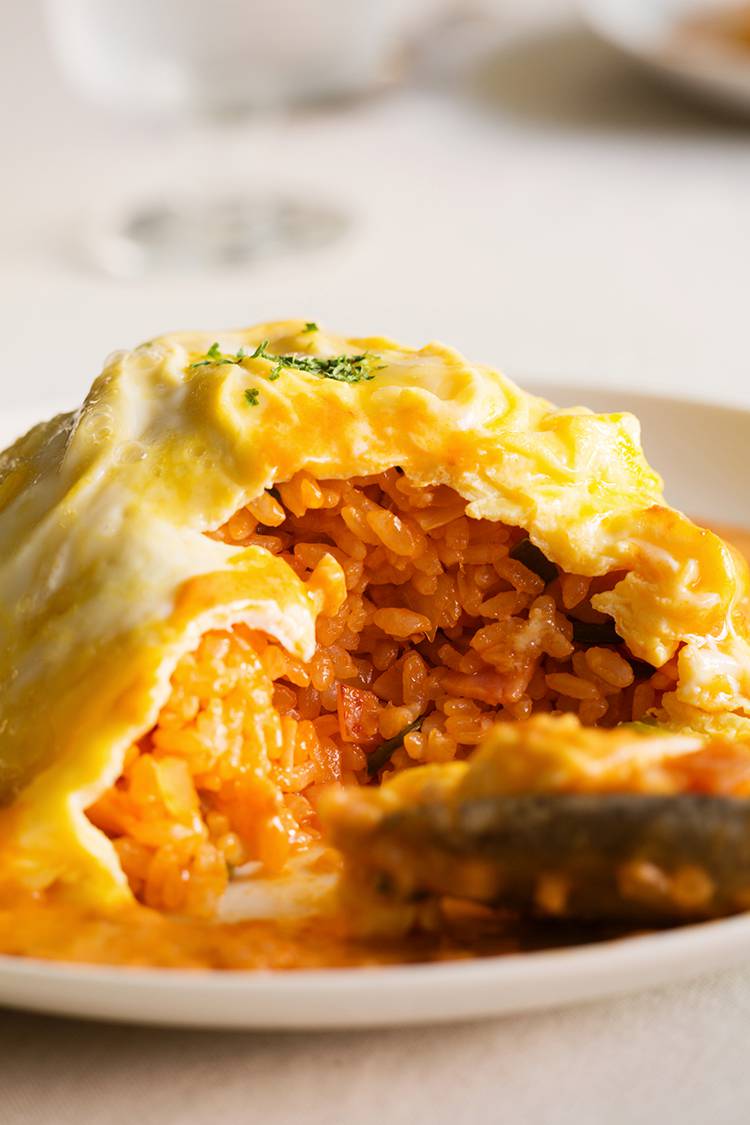 Omelette Rice with Crab Tomato Cream Sauce
Smooth omelette rice topped with fresh and creamy crab meat sauce that made with selected Japanese red-crab, Italian ripe tomatoes and cream, providing a blend of flavours deliciously.
Ingredients
(2 servings)
Crab Tomato Cream Pasta Sauce 110g

2 packs
Ham

6 slices

Onion

Half

Green Pepper

2 pcs

Cooked White Rice (Hard)

2 bowls
Dried Parsley

Optional

Salt

a little

Black Pepper

a little

Sugar

half teaspoon

Ketchup

4 tablespoons
Oil

1 tablespoon

Egg

4 pcs

Butter

10 g

Milk

15 ml
Directions
(approx. 30 minutes)
Chop ham, onions and green peppers.

Heat the butter in a frying pan. Add chopped ham, onions and green peppers respectively. Season with salt and black pepper, fry the ingredients until soft.

Add sugar, ketchup and cook slightly. Add cooked white rice and fry to combine.

Transfer the fried rice to a mould (such as bowl) and press lightly to evenly pack into shape. Flip it over on a plate, set aside. Preheat the Crab Tomato Cream Pasta Sauce.

Add eggs, butter and milk in a bowl and mix well.

Heat a frying pan and add cooking oil. Pour the egg mixture in step (5), rapidly stir with chopsticks and warm it until half cooked.

Use a spatula to cover the egg onto the fried rice in step (4). Top with the Crab Tomato Cream Pasta Sauce. Add dried parsley and serve.