A Pleasant Living
Starts with Organising Well and Cleaning Well
Under the new way of working and living, the time at home has been increased. By organising well and maintaining a neat home environment, you can make your stay-home time more comfortable. As the New Year approaches, it is time to review the past living habits, think about your ideal lifestyle and the possessions that you truly need. Keep only the necessary items and organise them properly, hence more space can be freed up for daily activities and cleaning, making daily life more convenient and pleasant. MUJI offers versatile, uniform sized Storage Units that can be applied and combined freely according to different storage needs, and practical Cleaning Tools that helps keeping different parts of the home clean, bringing a pleasant home environment and enjoyable stay-home time.
Interior Advisor's Column — 5 Steps to Organise Well
Interior Advisors are stationed at selected MUJI stores to offer personalised storage advices to customers.
With increasing convenience and options on shopping, common Hong Kong families are facing the problem of having too many possessions but too little storage space. Follow these 5 simple steps suggested by MUJI Interior Advisors and make use of suitable Storage Units, you may take the first step to storage and gradually achieve a pleasant living that embodies your own personality and lifestyle.
1|Reserve your holiday
Reserve sufficient time to complete the storage. For example, the Chinese New Year holidays.
2|Choose a storage location
Choose a small area to start with, like your wardrobe, desk or bookshelf. By starting with an easier goal, it allows you to get a sense of satisfaction from storage, hence larger motivation to organise other parts of your home. Take out all items from the designated area, and get a clear view of the belongings you possess.
3|Evaluate your possessions one by one
There is no fixed answer to the number of things to own or discard, but depends on your own lifestyle. To help evaluate whether an item deserves to keep, you may take all items out of the designated area, spread them on the floor, pick each item up and think about its usage in 5 seconds. Place the one you will use at the right and otherwise the left. When you finish all items, you will sort out the unnecessary things that you may donate or discard.
4|Organise the possessions that you keep
Arrange items by frequency and usage. By grouping your possessions by Storage Units of standard module, it allows you to recall easily what and how much you stored anytime, and makes storage more systematic. Also, follow the principle of "allow things to be used easily" and avoid using your possessions to fill all storage space.
5|Build a Storage Habit
In daily life, follow the rule of "return the item to the right place after use" and "discard an item before buying new one" to avoid things to stock up. Review and improve your storage method regularly. You may also try to maintain the capacity of storage to 80%, so that there will always be a buffer area to keep new things temporarily without disturbing the existing storage layout. Once the buffer area is used, you should reorganise the area as soon as possible and reduce the storage capacity to 80% again.
Organise Well
Grouping and keeping household items in storage units of appropriate size, material and design allows you to take what you want immediately, bringing convenience and efficiency to everyday life. It also helps keeping home environment well-arranged, clean and visually appealing. Start a brand new year by organising well and achieve a pleasant living.
PP Drawer

Translucent PP Drawers can keep the interior bright even when piled up, and also allow users to distinguish the items inside at one glance, hence easier to take and use the items or track on the quantity we have. Available in rich selection of sizes and designs ranged from large drawers to desktop sizes, and is compatible to various Storage Unit Accessories to keep daily goods in good orders, making home environment neat and well organised.

For Clothes and Large Items

PP Drawers of large sizes are available in 4 size modules, each available in 3 heights from 18cm, 24cm to 30cm, from which you can choose the most suitable one to stack up according to interior space or use under bed or in wardrobe to keep clothes or other large household items.

PP Clothes Drawer
L40 x D65 x H18/24/30cm
HK$120 – HK$180

PP Wide Drawer
L55 x D44.5 x H18/24/30cm
HK$140 – HK$220

PP Closet Drawer
L44 x D55 x H18/24/30cm
HK$120 – HK$180

PP Drawer
L34 x D44.5 x H18/24/30cm
HK$90 – HK$140

For Documents and Small Items

PP Drawers equivalent to A4 size are capable for keeping documents, stationery and other small items. Compatible with MUJI Storage Furniture and available in three heights from 9cm, 12cm to 17.5cm and various designs like single or multi-layer and wide or half types to cope with different storage needs.

PP Drawer
L26 x D37 x H9/12/17.5cm
HK$75 – HK$90

PP Drawer 2 Units
L26 x D37 x H12/17.5cm
HK$120 – HK$140

PP Drawer 3 Layers
L26 x D37 x H32.5cm
HK$120 – HK$180

PP Half Drawer
L14 x D37 x H12/17.5cm
HK$75 – HK$85

For Utilising Narrow Space

PP Drawers of only 18cm is applicable at narrow space like the entrance, kitchen, bathroom or between furniture to ulitise every bit of space for storage. You may choose between various ready-made Multi-drawers Units with Castor and single layer drawers for free combination.

PP Single Drawer
L18 x D40 x H11/21/30.5cm
HK$65 – HK$120

PP 3 Drawers Unit with Castor
L18 x D40 x H83cm
HK$320

PP 4 Drawers Unit with Castor
L18 x D40 x H83cm
HK$280 – HK$320

Storage Unit Accessories

Castor and Wheeled Platform are useful for storing and moving large items. When organising small items, make use of different accessories as partitions and raise storage efficiency.

Castor for PP Storage


HK$30 (4pcs)

PP Wheeled Platform


HK$180

Non-woven Fabric Separation Case


HK$65 – HK$90

PP Makeup Box / PP Arrangement Box


HK$10 – HK$40 / HK$6 – HK$15

PP File Box

Not only documents and books, PP File Box is also capable for storing your other daily goods of varying heights and shapes while keeping them orderly and neat. Available in translucent and white-gray, regular style and stand file box style; the former can be stacked with the use of a matching lid to fulfill your different storage needs.

Soft PE Storage

Made of polyethylene material of excellent cold and water resistance, it can be used for keeping food in the refrigerator and washed with water to keep hygiene. Having a soft texture, it is also safe for children and ideal for keeping your children's toys and stationery.

Desktop Storage

Acrylic Storage


The high transparency makes the stored items inside clearly visible and easy to access. The standard modular size allows flexible combination of different units to keep your small and scattered items well organised, leaving sufficient free space on the desktop.

MDF Storage


Wooden MDF material is sturdy, durable and not easy to bend. The gentle colour tone allows it to blend in your living environment naturally.

Hard Pulp Storage


Easy to assemble and foldable for storage when not in use. It is recyclable and therefore friendly to the environment.

Other Storage Units

Stainless Steel Storage


Durable and sturdy, it is attached with handles for carrying things with ease. It is also stackable when you place the handles inwards.

Buri Storage


Hand-woven using Buri material from the Philippines, it embodies the unadorned texture of natural materials. Stackable when used with lid and available in style with handles for easy carriage.

Rattan Storage


Woven by hand meticulously, it is light, soft and smooth in texture. Stackable when used with lid and available in style with handles for easy carriage.

Cotton Linen Polyester Storage


Comes with a coating to enhance durability, it can be folded when not in use for easy storage. Style with lid is available to keep cleanliness and privacy.
---
Clean Well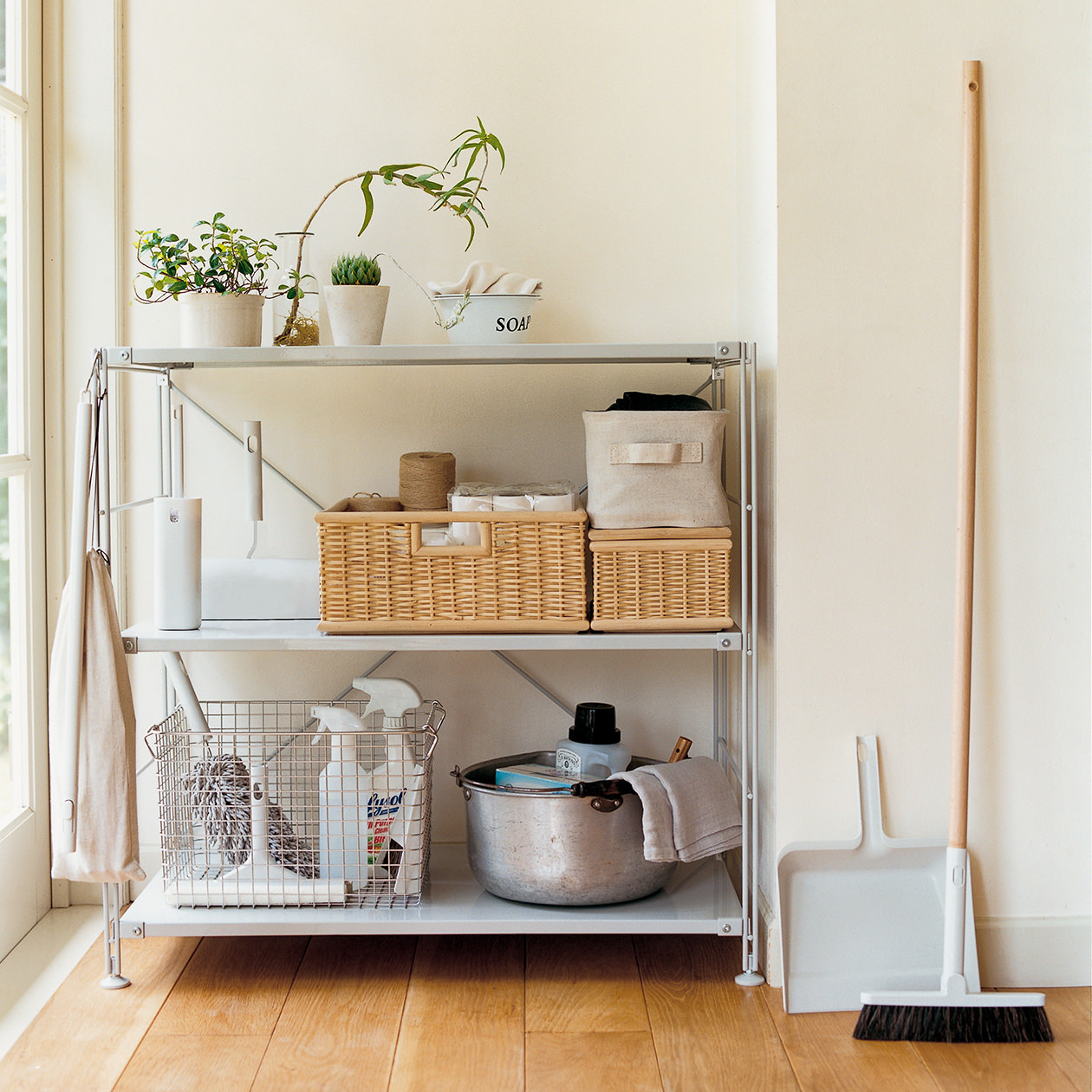 Build regular cleaning habits to maintain a comfortable and tidy home which you and your family enjoy staying at. MUJI Cleaning Tools are simple in design and practical in function. Simply combine a pole with a variety of attachments depending on your cleaning needs to keep your cleaning process stress-free and efficient. Some Cleaning Tools are even self-standing for easy storage at any corner of your home. Place the Cleaning Tools wherever you need and make cleaning a part of your daily life.
---
Storage Advisory Service
MUJI Interior advisors offer personalised storage solutions according to your lifestyle and actual needs for a space-efficient home and pleasant living. Phone and Online Video Consultation are available now.