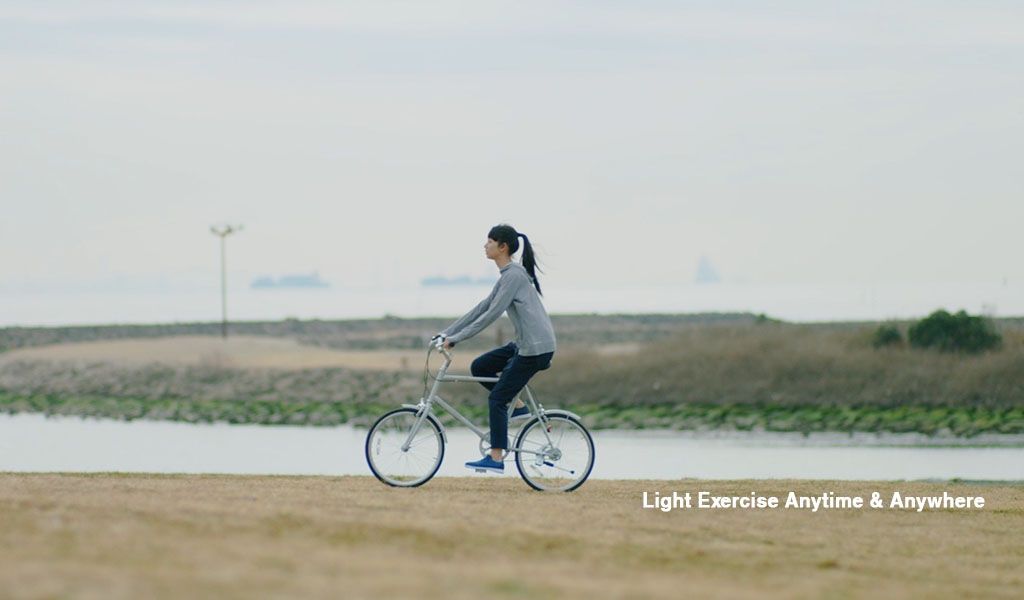 MUJI WALKER Active Wear
City dwellers spend most of their time working at indoor, lacking in exercise. In order to maintain a balance of body and mind, having an outing or travelling during vacation and weekends, or stretching your body muscles can relieve stress and fatigue. One may also start from light exercises such as stretching, yoga or jogging which doesn't require special outfit or equipment. MUJI WALKER Active Wear and sneakers with dynamic functionality would be all you need.

The soft and stretchy MUJI WALKER series, equipped with sweat absorbent and quick-drying features, is ideal for at-home exercise, outdoor activities or travel occasions. Prepare yourself with lightweight outfit and portable skin care products to enjoy the fun of exercise anytime and anywhere. Limber up the muscles and joints to maintain a healthy life.
Well-suited for Exercise and Leisure
The short sleeve T-shirt and zip hoody of MUJI WALKER Active Wear Series with quick drying and UV protection functions, made of stretchable polyester which is soft and strong in sweat absorbency. One can feel the airy comfort when wearing them for exercise. The simple and slim silhouette makes it easy to coordinate with other clothing for daily wear or travel. Apart from the basic colours like grey, black and navy, there are more colour options such as smoky yellow and pink for ladies' wear.
Protect Skin against Sunlight

Exposure under sunlight during running in daytime may cause harm to the skin. The hoody made of polyester with UV protection provides protective function for day time activities.

Enjoy Exercise Safely

During nighttime exercises, reflectors on the back of the T-shirt and sweater or on the shorts help drivers identify runners on the road, thus increase the safety of night running or outdoor activities at night.

Stay Dry and Comfortable

The quick drying function of the short sleeve T-shirt keeps you dry and comfortable when doing exercise. It is perfect for frequent changing of clothes. Simply hand-wash and hang in the room, it will dry in the time for the next day's adventures.
The Outfit
UV Protection Zip Hoody

It protects the skin from UV rays in day time. There are also pockets with zippers which are convenient for storage of personal documents or mobile phone.



Right Angle Sports Sneaker-In Socks

Tougher yarn is knitted around the arch and ankle area to enhance support. Upper part is made of mesh fabric, which has good permeability. The right angle shape prevents the socks from slipping off.

Light Sole Knit Sneakers

Sneaker features light weight insoles that are suitable for light exercises such as jogging. This simple design is also easy to coordinate with daily wear. One pair can cater both exercise and travel needs, without increasing burden on suitcase during the journey.

Wrap and Tie Long Extra Thin Towel

The towel is long enough for wrapping or tying around the neck or head. With organic cotton plain stitch fabric, the towel is excellent in water absorption and easy drying, which is ideal for wiping sweat during exercise.


The Skincare 
Sunscreen Mist

Spray evenly on the body and the back of the neck before outdoor activities in day time to protect against UV light. It can simply be removed with body soap and cleansing products.

Mild Cleansing Milk

Apply mild cleansing milk to wash away the sweat and dust on skin after exercise. It contains orange juice as the natural moisturising component to maintain the suppleness after cleansing.

Sensitive Skin All-in-One Essence

Skin moisture loses easily after exercise, so it is important to keep our skin hydrated. Apply All-in-One Essence after facial cleansing, combining basic skin care processes into one simple step.

Deep Sea Mineral Mist

Exercise enhances body metabolism and generates heat in body. Spray the mist after that can help cool down the body, soothing the skin with its light and cool texture.
Foldable Soft Carry Suitcase

A suitcase designed for storage with limited space. The inside panels can be uplifted and folded into half size in thickness. Using with Paraglider Cloth Gusset Case and Foldable Shoes Cases makes packing more efficient.

Paraglider Cloth Foldable Shoes Cases

Made from lightweight paraglider cloth, the shoe cases can store shoes separately, which keeps the suitcase organised, and prevent the shoes from squeezing and deforming when they are put together.

Paraglider Cloth Gusset Case Double

The double-layer gusset case can separate workout clothes and towels for easy access. Different sizes of gusset case are designed to fit perfectly into MUJI Suitcases, catering the number of items needed to be packed and making the most of suitcase space.

Hanging Case with Detachable Pouch

The hanging pouch provides storage for portable skincare products without worrying about missing any items. It can also be hung in any bathroom with the hook.