Daily Goods
Daily life consists of the everyday interactions between people and objects. The goods we use every day are developed to solve the problems we face in life. MUJI examine products through three principles – material selection, process streamlining and packaging simplification based on users' point of view and meticulous observation from daily life. MUJI started with only 40 items in 1980. Over the years, MUJI has developed more than 7,000 items that are designed with simplicity, practical and reasonably priced, catering the fundamental needs of daily life, and bringing users a rational satisfaction expressed with "This will do".
br Through regular sharing of daily goods suggestions on "Apparel" and "Living", the two fundamental aspects of everyday life, MUJI aims to bring a more convenient daily shopping experience to customers for a comfortable life.
How to identify our recommended daily goods
The in-store tools of daily goods that we recommended quarterly will be printed with this icon. You also can experience the enhanced convenience and comfort with the promotion offer.
Daily Wear
With an eye for comfort and functionality, MUJI basic wear items are mainly made of natural materials such as organic cotton, with simple design and different knitting methods. Ranging from basic tee, home wear, innerwear to shoes, select suitable item that fits your daily needs and enjoy the comfort it brings to you.
Basic T-shirt
Organic cotton refers to the cotton grown in soil that has remained free from the use of pesticides and chemical fertilizers for more than 3 years, minimizing the impacts to environment and people.  Therefore, we have been continuously using organic cotton for our basic wear.

Coarse Organic Cotton T-shirt is firmly knitted for a thick and sturdy texture and better pilling resistance. You can either wear it on its own or as an outer in this spring when temperature fluctuates from time to time.

Let your kids wear Organic Cotton T-shirt printed with endangered species to raise their awareness about protecting animals.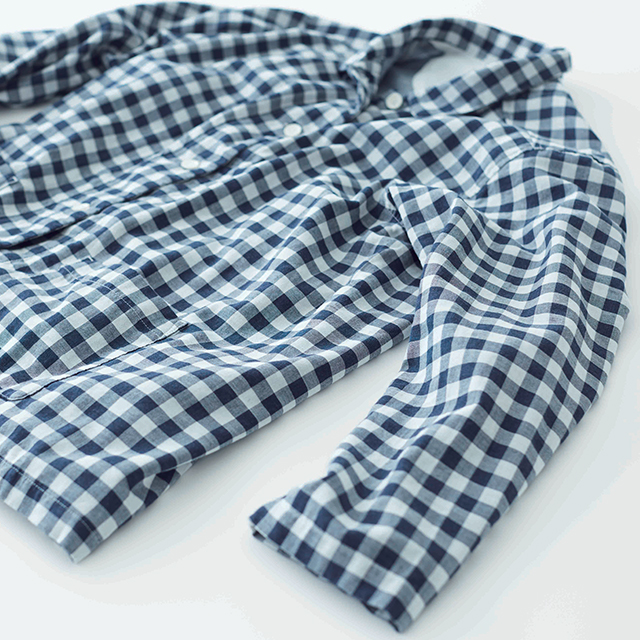 Seamless Double Gauze Pajamas
The temperature and humidity will begin to rise in spring. Selecting pajamas made of different materials based on climatic condition will bring you a good night's sleep. Our Double Gauze Pajamas is made of organic cotton for a soft and light texture, and the double gauze creates a layer of air which helps to dissipate heat and moisture. Moreover, the pajamas is made without side seams for reduced friction between the fabric and skin, and washing care label is printed directly on the fabric to prevent discomfort when lying down.
Organic Cotton Inner
Made of 100% organic cotton with excellent breathability and moisture absorbance. With side seams eliminated by circular knitting technique, the innerwear features enhanced comfort with a gentle touch. In addition, to minimize irritation on skin, the care labels and tags are printed onto the inner side of fabric. Available in several styles for catering your different needs.
Right Angle Short Socks
Czechs need to wear thick socks in cold and snowy winter. At that time, most socks were created at a 120-degree angle which was not a good fit to feet. In 2006, in the search for the perfect sock, MUJI discovered a Czech grandmother's hand knitted right angle socks which perfectly fit the heels and stay well in place.

Right Angle Socks are shaped to fit the angle and natural contour of your feet, so that the socks won't slip out of position as your wear them for daily activities. MUJI offers a wide variety of colours and patterns for easy mix and match with your spring outfit.
Water Repellent Sneakers
Organic Cotton Sneakers are designed to fit the contours of your feet and provide extra support. The convex design can support the arches of the foot and relieve fatigue while walking. Furthermore, the round bump design at the heels provides multi-directional grip and increases cushioning when landing. It will make you feel less tired even walking for a long time. In addition, You can wear these on a rainy day in spring with water-repellent function.

With simple design and availability of basic colours such as white, black and navy, the sneakers bring versatility to your daily look.
Living
MUJI remains true to the philosophy of "Create necessities of daily life in the shapes that are truly necessary" when it comes to product design, bringing daily goods that provide basic functions, and can be used for a long time. Each product design is a rational expression of its essence without unnecessary decorations that articulates simplicity, allowing each product to blend into your living environment naturally, and become part of your life.
Cotton Pile Bath Towel
Made of long-fiber cotton, delicately woven to retain softness even after repeated washings. Users can choose from the wide range of towels made with different thickness based on actual needs. Among all towels, the thick type is featured with sturdy texture and excellent water absorption ability, making it an ideal option for daily use at home. Some styles are designed in grid-like pattern, allowing users to cut the towels into smaller pieces when they are no longer in use. The smaller pieces can be reused as bath mats and dust rags, and can be used until the towels are completely worn out.
Cotton Basket Weave EVA Slippers
This pair of slippers is easy to wear with both left and right slipper identical in shape. The inner part is made of cotton for a soft and comfortable touch while the sole is made of sturdy EVA material for better durability. To clean the slippers, simply put them into a laundry bag for machine wash at home.
Acrylic Storage
MUJI offers a wide variety of storage units in standard modular sizes and different materials for users to create personlised storage system by combining multiple units together.

The transparency of Acrylic Storage allows you to identify what's inside immediately so that you can pick what you want at ease. Use Velour Tray or Partition with 2-row or multiple-row Acrylic Stackable Drawer to create a personalised storage box for small items such as glasses and accessories. A tidy and organised desktop will always delight your mood.
PP Hanger
Hangers made from lightweight and durable PP material. The angle design of the hanger prevents clothe from slipping off and helps retain its original shape. Available in 4 types for hanging different garment items. For instance, the angle on PP Laundry Hanger makes it easier to hang your clothe from the neck without stretching its rib, while PP Wide Shoulder Hanger is suitable for hanging your jacket so that the shoulder line will not be ruined easily. For another two types of hangers, pinches are added for a better hold on skirts.
Storage Jar
Storage Jars with tight closures are suitable for long-term storage such as fruit liqueur and preserved foods. Available in 5 sizes.

Pressure difference occurs during the production of fruit liqueur and preserved foods. High pressure might create a forceful opening of the lid while low pressure at cold temperatures might diminish the inner pressure, making the lid hard to open.

To balance the pressure, a silicone sealing ring has been added in each Storage Jar. The handle of the sealing ring can be pulled to strike a balance in air pressure, allowing you to open the jar safely.
Mild Cleansing Oil
Cleansing is the foundation of daily skincare routine Choosing a suitable cleansing item to remove makeup is crucial to the skin health.

Containing olive and jojoba oil with added natural botanical ingredients such as apricot juice and peach leaf extract, and moisturising function ingredient such as Lipidure® (Polyquaternium-51), MUJI Mild Cleansing Oil helps remove eye, lip and face makeup effectively while retaining skin moisture. It is recommended to keep your hands and face dry for using the cleansing oil. Apply a small amount on your palm (around 3 to 4 pumps), gently massage over your face until makeup is all dissolved and then rinse thoroughly. Free of artificial fragrance, colour, mineral oil and alcohol.

Available in portable 50ml, regular 200ml, and large 400ml for your travel and daily needs.
Selected Daily Goods Offers
From now till 16th April 2020, customers are entitled to discount offers on the following selected "MUJI Daily Goods".
(All item information, selling prices and availability are subject to in-store display. Offers available while stock lasts.)
Seamless Double Gauze Pajamas
Original Price: HK$280
Special Price: HK$198
Selected Organic Cotton Inner Pack of 2
Original Price: HK$90
Special Price: 10% off for 2 pcs or above
Right Angle Short Socks
Original Price: HK$30
Special Price: HK$98 / 4 pairs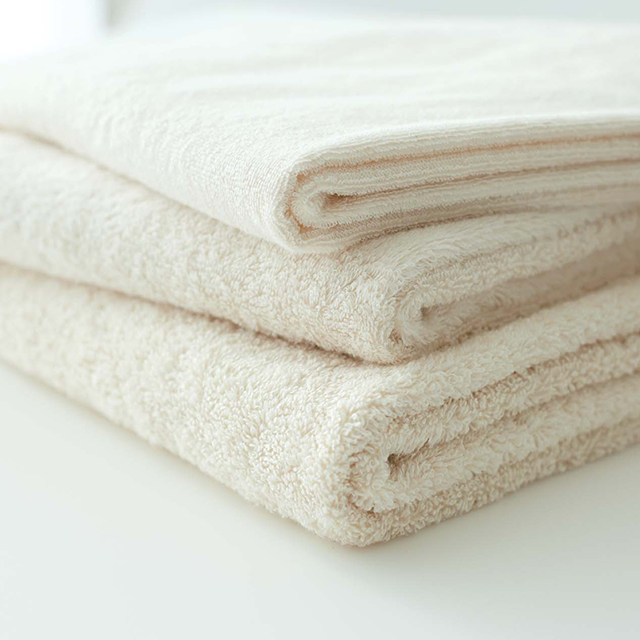 Selected Cotton Pile Bath Towel
Original Price: HK$180 – HK$200
Special Price: HK$138
Acrylic Storage
Original Price: HK$8 – HK$330
Special Price: 20% off (HK$7 – HK$264)
Selected Storage Jar
Original Price: HK$38 – HK$60
Special Price: 20% off (HK$31 – HK$48)
Mild Cleansing Oil 400ml
Original Price: HK$120
Special Price: HK$95
---