Daily Goods
Daily life consists of the everyday interactions between people and objects. The goods we use every day are developed to solve the problems we face in life. MUJI examine products through three principles – material selection, process streamlining and packaging simplification based on users' point of view and meticulous observation from daily life. MUJI started with only 40 items in 1980. Over the years, MUJI has developed more than 7,000 items that are designed with simplicity, practical and reasonably priced, catering the fundamental needs of daily life, and bringing users a rational satisfaction expressed with "This will do".

Through regular sharing of daily goods suggestions on "Apparel" and "Living", the two fundamental aspects of everyday life, MUJI aims to bring a more convenient daily shopping experience to customers for a comfortable life.
How to indentify our recommended Daily Goods
The in-store tools of daily goods that we recommended quarterly will be printed with this icon. You also can experience the enhanced convenience and comfort with the promotion offer.
Daily Wear
With an eye for comfort and functionality, MUJI basic wear items are mainly made of natural materials such as organic cotton, with simple design and different knitting methods. Ranging from basic tee, home wear, innerwear to shoes, select suitable item that fits your daily needs and enjoy the comfort it brings to you.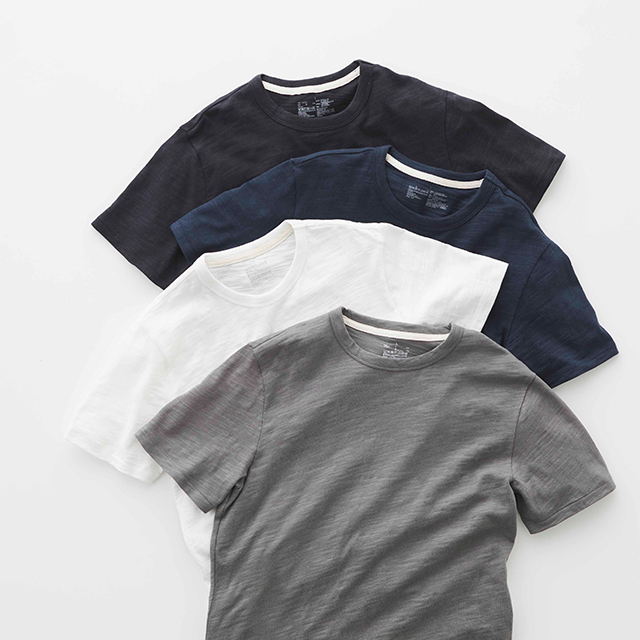 Organic Cotton Uneven Yarn T-shirt
Organic cotton refers to the cotton grown in soil that has remained free from the use of pesticides and chemical fertilisers for more than 3 years, minimising the impacts to environment, workers and local residents. Therefore, we have been continuously using organic cotton for our basic wear.

Made of uneven yarn to produce a textured fabric surface, the T-shirt minimises the area of contact between fabric and the skin to create a breezy feeling. The T-shirt is sturdy, allowing it to be worn on its own or as an inner layer for mix and match. Care label and size tag are printed on the fabric for extra comfort, and the collar has been strengthened for better durability.
Organic Cotton Seamless Seersucker Pajamas
As summer is approaching, wearing a suitable set of seasonal pajamas helps maintain quality sleep.

Cotton seersucker makes a good material for summer pajamas for its soft texture and uneven surface to reduce the contact between fabric and the skin. It also comes with natural breathability and moisture absorbance to keep your body dry and comfortable.

Using cylindrical knitting method, the side seams are eliminated to prevent irritation to skin. Care label is also printed directly on the fabric to enhance sleeping comfort.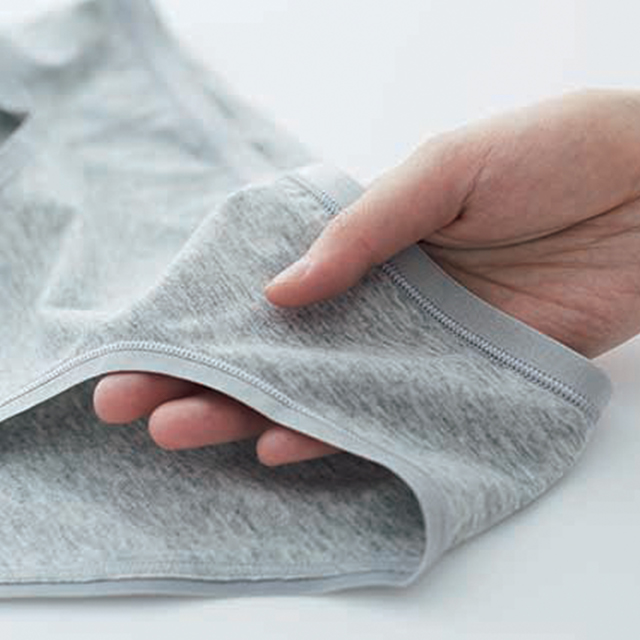 Briefs and Shorts
Both Men's and Ladies' Innerwear are made with organic cotton for a soft and stretchable texture with excellent airiness. Available in briefs and boxers, Men's Innerwear is designed with low-tension elastic waistband to minimise the stress on body.

Ladies' Innerwear adopts cylindrical knitting technique to eliminate the discomfort to skin caused by side seams. Available in bikini, midi, high-rise and boxer styles.
Right Angle Sneaker-in Socks
While ordinary socks are created at a 120-degree angle which leaves a gap between your feet and the socks, MUJI Right Angle Socks are shaped to fit the angle and natural contour of your feet, so that the socks won't slip out of position as your wear them for daily activities.

Woven with soft and comfortable cotton mixed material, the Sneaker-in Socks give great wearing comfort. The sock tips have been strengthened by the use of nylon yarns to improve durability.
Water Repellent Sneakers
Organic Cotton Sneakers are designed to fit the contours of your feet and provide extra support. The convex design of insoles can support the arches of the foot and relieve fatigue while walking. Furthermore, the round bump design at the heels provides multi-directional grip and increases cushioning when landing. It will make you feel less tired even walking for a long time. In addition, You can wear these on a rainy day in summer with water-repellent function.

With simple design and availability of basic colours such as white, black and navy, or seasonal colours such as mustard and smoky blue, the sneakers bring versatility to your daily look.
Daily Living
MUJI remains true to the philosophy of "Create necessities of daily life in the shapes that are truly necessary" when it comes to product design, bringing daily goods that provide basic functions, and can be used for a long time. Each product design is a rational expression of its essence without unnecessary decorations that articulates simplicity, allowing each product to blend into your living environment naturally, and become part of your life.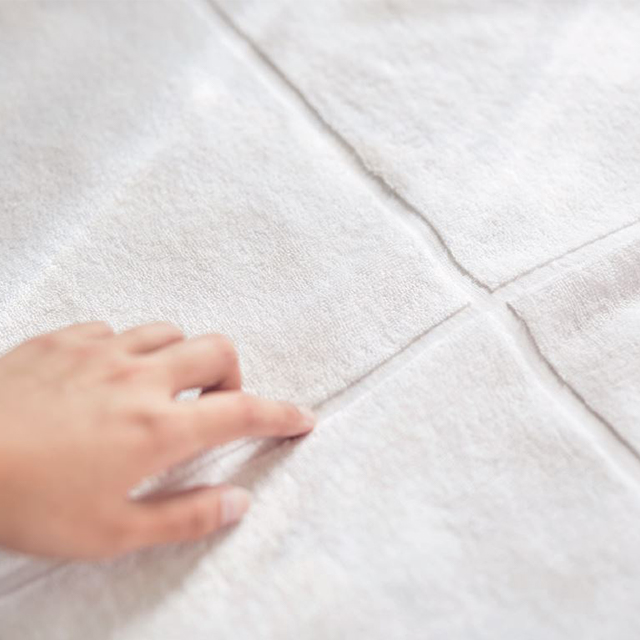 Cotton Pile Bath Towel
Woven with long and firm cotton yarns under careful knitting procedure, the Cotton Towels can remain durable and soft after repeated washing. From fluffy and water absorbing medium thick towel to light and quick-dry thin towel that especially fits for wet summer season, you may choose the appropriate thickness that caters your need. Some styles are designed with embossed lines, which allow you to cut the towel into pieces of wiping cloths, extending the lifespan of the towel even after it is worn out.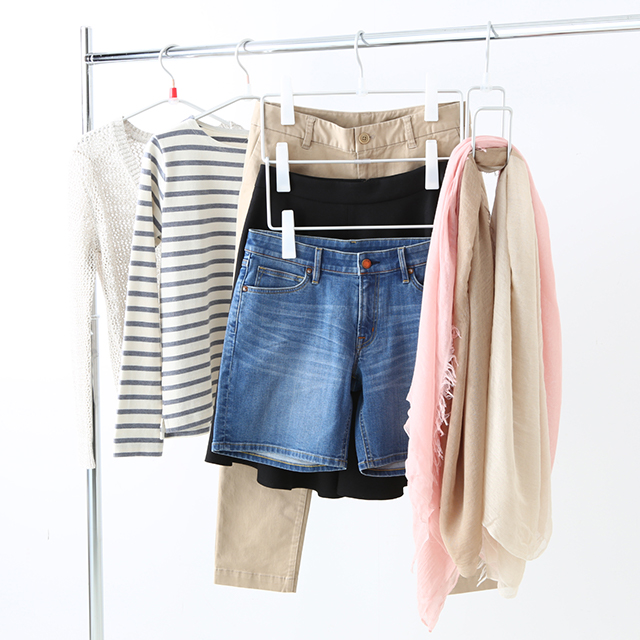 Aluminum Hanger
Made of anodised aluminum, the light, durable and corrosion-resistant Aluminum Hangers are capable for prolonged outdoor use, especially suitable for summer when doing frequent laundry becomes necessary. With special design on its shape, the hanger helps maintain the shape of clothes without deformation on the shoulders. Various styles are available for different apparels such as T-shirt, camisole, skirt and ties.
PP File Box
Made of PP material, it is light and durable. Rich selection of height and width allows it to be used in combination flexibly based on storage needs at your home or office. Available in 2 colours, including semi-transparent style that allows you to recognise what's inside easily, and white gray style that helps maintain privacy of storage. Each PP File Box has a finger hole near the bottom for you to retrieve it easily even if it is placed above your eye level. Use together with lids and wheels for moving multiple file boxes at ease, or with Organizing Boxes to further divide the storage space for keeping scattered items.
PP Food Storage Container
Serves as a storage container and a lunch box. The round-shaped storage containers help you store soup with ease. Its ability to tolerate cold temperatures deems fit for refrigerator storage; while the series with a valve is microwave-safe for reheating your lunch the next day. The valve design also brings good sealing effect and prevents odour and liquid leakage. Caters to different food storage needs with a plentiful range of size variation.
Mild Moisture Face Soap
It contains apricot juice and peach leaf extract as natural moisturising components to maintain a moisturised feeling after cleansing. Free of artificial fragrance, colouring, mineral oil and alcohol, it provides mild, burden-less care to your skin.

Take an appropriate amount onto your palm and lather with warm water, apply on face with circular massaging motions and rinse off. Enhance the cleansing effect by using a foaming net or foaming ball to create fine whipped foam.
Selected Daily Goods Offers
From now till 21st June 2020, customers are entitled to discount offers on the following selected MUJI Daily Goods.
(All item information, selling prices and availability are subject to in-store display. Offers available while stock lasts.)
Selected Briefs and Shorts
Original Price: HK$50
Special Price: 10% off for 2 pcs or above
Selected Men's and Ladies' Right Angle Socks
Original Price: HK$30
Special Price: HK$98 / 4 pairs
Cotton Pile Thin Bath Towel with Further Options
Original Price:HK$150
Special Price:HK$138
Aluminium Hanger Set of 3
Original Price: HK$25
Special Price: HK$22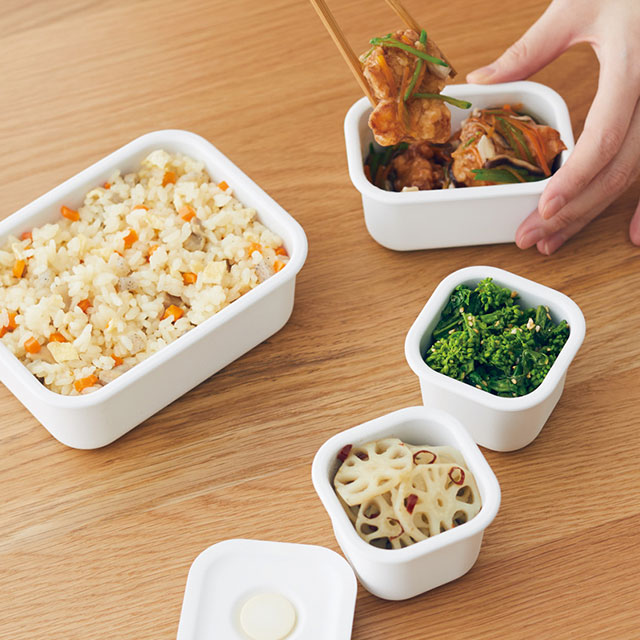 PP Food Storage
Original Price: HK$25–HK$58
Special Price: 20% off (HK$20–HK$47)
PP File Box
Original Price: HK$8–HK$120
Special Price: 10% off (HK$8 - HK$108)
Mild Moisture Face Soap 200g
Original Price: HK$90
Special Price: HK$70
Hashtag #LifeWithMUJI to share your MUJI life with us!
Everyone has different ways of solving daily life problems. Share with us how you make life more convenient and comfortable by using MUJI Daily Goods with the hashtag #LifeWithMUJI and let others be inspired by you.