Daily Goods
Daily life consists of the everyday interactions between people and objects. The goods we use every day are developed to solve the problems we face in life. MUJI examine products through three principles – material selection, process streamlining and packaging simplification based on users' point of view and meticulous observation from daily life. MUJI started with only 40 items in 1980. Over the years, MUJI has developed more than 7,000 items that are designed with simplicity, practical and reasonably priced, catering the fundamental needs of daily life, and bringing users a rational satisfaction expressed with "This will do".

Through regular sharing of daily goods suggestions on "Apparel" and "Home Living", the two fundamental aspects of everyday life, MUJI aims to bring a more convenient daily shopping experience to customers for a comfortable life.
How to identify our recommended Daily Goods
The in-store tools of daily goods that we recommended seasonally will be printed with this icon. You also can experience the enhanced convenience and comfort with the promotion offers.
Daily Wear
With an eye for comfort and functionality, MUJI basic wear items are mainly made of natural materials such as organic cotton. Select suitable item that fits your daily needs following seasonal change and enjoy the comfort it brings to you no matter where you wear it.
Organic Cotton Stretch Chino Pants
Chino Pants are made of 4-way stretchy chino fabric with moderate thickness and sharp silhouette, making them an essential item across autumn and winter.

Available in tapered and slim for men's, several styles are processed with water repellent feature for wearing on rainy days. Ladies can choose from boyfriend fit and wide pants, with flexible rubber waistband for easier fit into different body shapes. Colours range from basic black and white to seasonal dark beige and khaki green, allowing you to mix and match with different tops easily.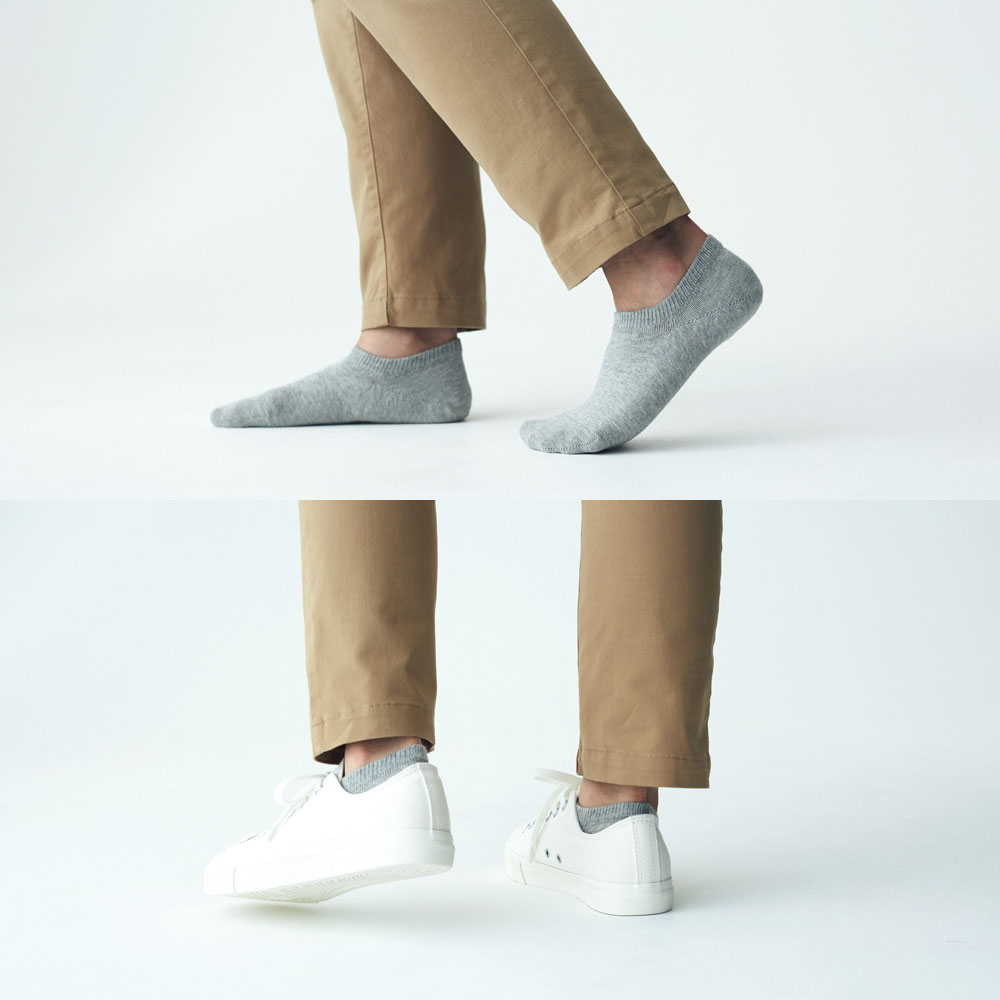 Right Angle Sneaker-in Socks
While ordinary socks are created at a 120-degree angle which leaves a gap between your feet and the socks, MUJI Right Angle Socks are shaped to fit the angle and natural contour of your feet, so that the socks won't slip out of position as your wear them for daily activities.

Sneaker-in Socks are made of cotton mix materials to wrap the heel with comfort. The tip is strengthened by nylon yarns for enhanced durability. 5-finger Socks that spread walking pressure between the fingers thoroughly are available as a choice for improving walking postures. The seamless design at the tip also enhances walking comfort.
Water Repellent Organic Cotton Comfortable Sneakers
Organic Cotton Sneakers are designed to fit the contours of your feet and provide extra support. The convex design of insoles can support the arches of the foot and relieve fatigue while walking. Furthermore, the round bump design at the heels provides multi-directional grip and increases cushioning when landing. It will make you feel less tired even walking for a long time. In addition, You can wear these on a rainy day in summer with water repellent processed shoe body and laces.

With simple design and availability of basic colours such as white, black and navy, or seasonal colours such as dark apricot and charcoal grey, the sneakers bring versatility to your daily look as a year-round staple.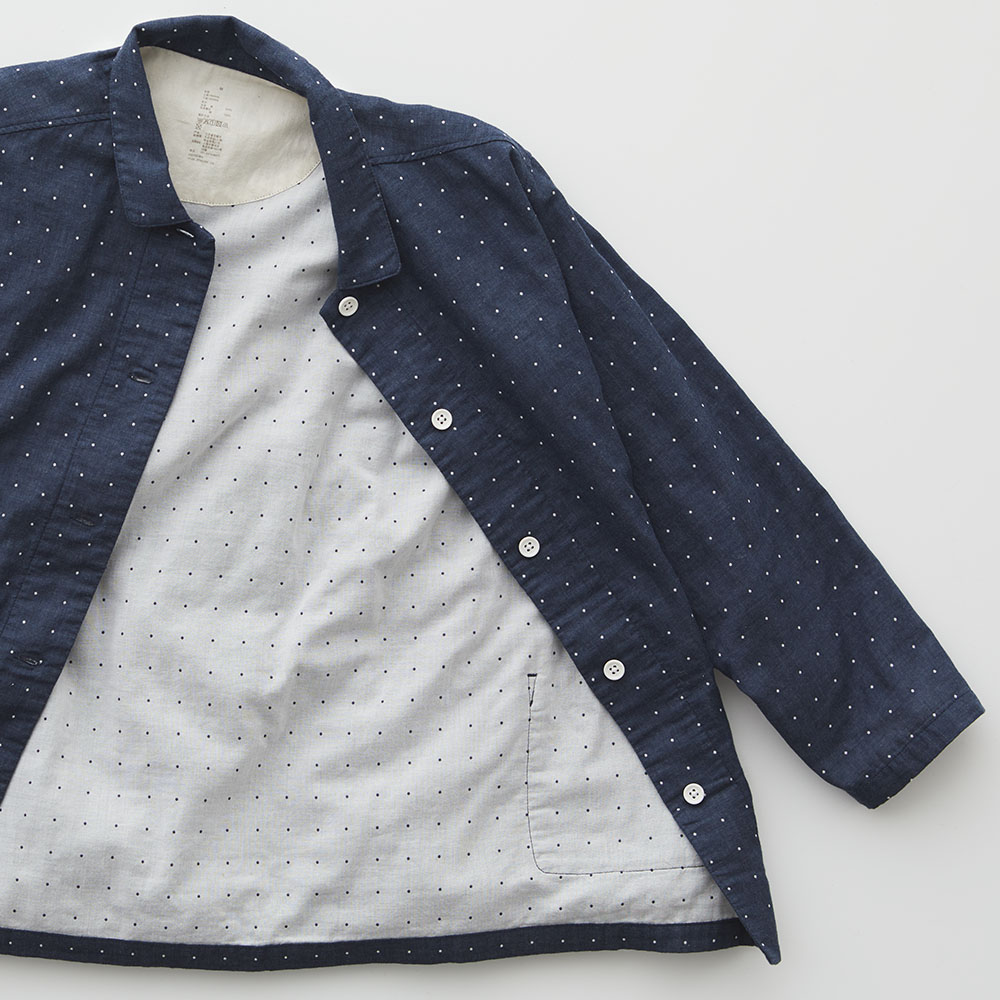 Seamless Double Gauze Pajamas
Wearing pajamas made of different materials according to seasonal change helps to regulate body temperature for a better sleep. Made with 2 layers of organic cotton to trap air within, Double Gauze Pajamas are soft and comfortable to wear. Cotton as a natural material allows good breathability and moisture absorbency, keeping your body dry over the night. To further enhance wearing comfort, side seams are removed while washing labels are printed directly on the fabric.

Sleepers designed referencing from Indian traditional kurtas are also available as a loose-fit comfortable choice for ladies.
Organic Cotton Innerwear Pack of 2
Made of cotton mix materials that naturally absorb body moisture for a stretchy innerwear that is comfortable to wear. Using circular knitting technique, side seams are eliminated to avoid discomfort when wearing.

Men's can choose from crew neck, V neck short sleeves T-shirts and tank tops, while camisoles, tank tops and French sleeves T-shirts are available for ladies. 2 pieces packed for easier daily cleaning.
Daily Living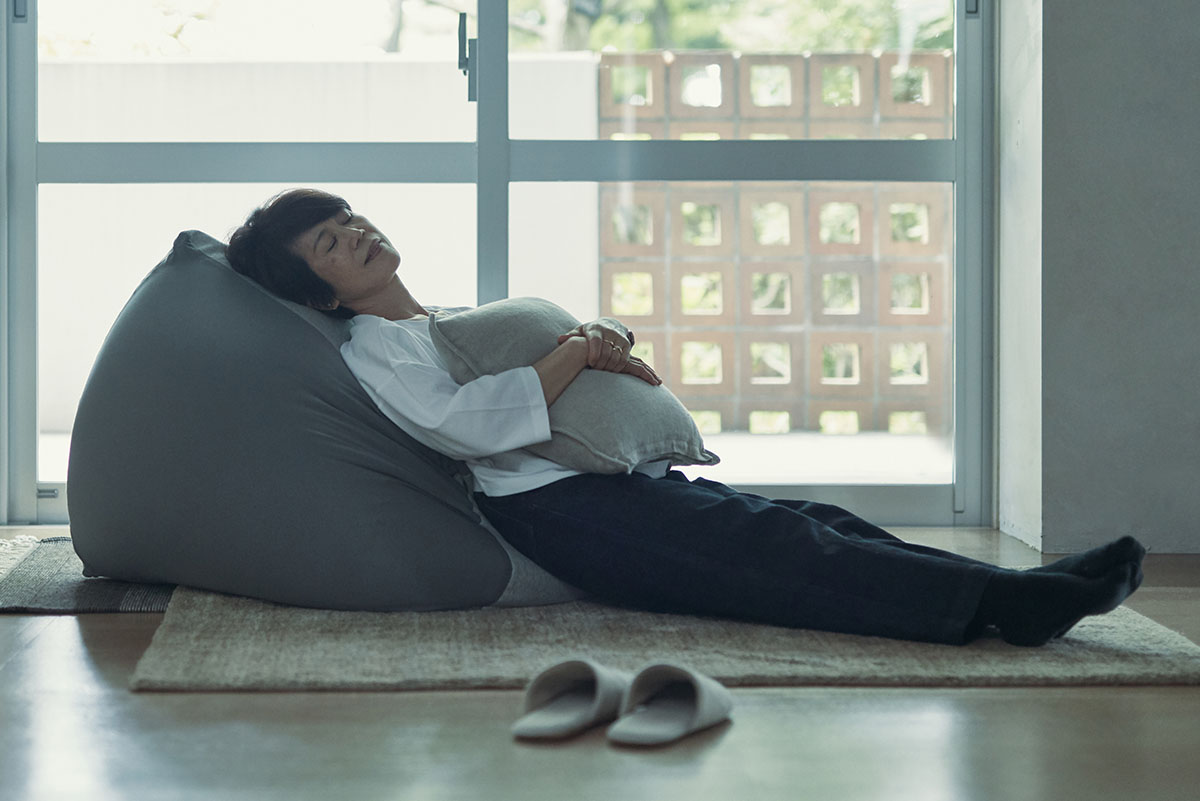 MUJI's product design aims to bring daily goods that provide essential functions, and can be used for a long time. Suggestions on home fabrics, kitchen tools and personal care items are available for bringing you inspirations about how to live a comfortable life at home.
Cotton Pile / Blend Towel
Woven with long and firm cotton yarns under careful knitting procedure, the Cotton Towels can remain durable and soft after repeated washing.

Available in different thickness and size for various usages. The lightweight and quick-drying thin towel is convenient for daily washing which can help reduce bacteria and mould growth. The fluffy and soft medium-thick towel has moderate thickness and good water absorbency, making it particularly suitable for drying your hands after thorough washing.
Cotton Room Slippers
Always wear room slippers at home to keep your feet clean. Room Slippers made of cotton can keep your feet dry with its natural moisture absorbing ability, while the wrapping design can provide all-rounded cushioned comfort to the feet.

Basket Weave Slippers feature a supportive EVA outsole with high durability. Both left and right slippers are designed in identical shape so you can wear them immediately without a second of thinking. Jersey Knitted Soft Slippers with moderately thick texture are also available as an alternative choice with a softer wearing comfort.
Kitchen Tools
Use cleaning tools such as cloth, sponge with handle, and sponge to clean your tableware and cookware every day for a tidy kitchen that makes cooking safer and more carefree. Made of the leftover cotton from garment manufacturing process, the kitchen cloth has good water absorption properties, and is suitable for wiping or cleaning. The sponge with a long handle is convenient for cleaning the bottom area of water pots and bottles. The 3-layered sponge helps to clean small gaps between the lunchbox lids or bottle caps at ease with its foaming and water straining feature. After cleaning, simply place the kitchenware on Cellulose Sheets that absorb moisture quickly.
Hook and Towel Hanger
Make use of space beneath the wall to organise kitchenware. Hangers and hooks are helpful to keep frequently used kitchenware in different sizes, helping them to dry quickly with easy access as you can locate them with a single glance.

Choose hanging accessories made of aluminium or stainless steel for durability and easiness to clean. Towel Hangers are available in magnet type, sucker type and door hook type for attaching to kitchen wall, cabinet or door. You can also use them with hooks and clips to hang cooking spoon, chopping board or stir-fry pan to make good use of available space.
PP File Box
Made of PP material, it is light and durable. Wide range of selection in different height and width allows it to be used in combination flexibly based on storage needs at your home or working space. Available in 2 colours, including semi-transparent style that allows you to recognise what's inside easily, and white gray style that helps maintain privacy of storage. Each PP File Box has a finger hole near the bottom for you to retrieve it easily even if it is placed above your eye level.

The boxes can be helpful during daily cleaning when lids and castors are attached. Put detergents, sponges and brushes in different sizes inside tidily and move around at ease to clean different corners of your living space. You can also attach Box Pockets to PP File Box for keeping small items such as sponges.
Booster Essence lotion
Made with natural water from deep caves of Japan and free from fragrance, mineral oil, colouring, Paraben and alcohol, the Booster Essence Lotion prepares your skin for the next step in your skincare routine. Incorporating 5 botanical essence including camellia seed and rice bran extract, it naturally moisturises the skin after cleansing and before applying moisturiser for better absorption of moisturising components to corneum.

The soft cotton puff is wrapped by a non-woven fabric with a middle layer made of cotton. The sides are processed to prevent the cotton puff from deforming. Use with Booster Essence Lotion to moisturise your skin gently for a good foundation to your daily skincare routine.
Selected Daily Goods Offers
From now till 11th Oct 2020, customers are entitled to discount offers on the following selected MUJI Daily Goods.
(All item information, selling prices and availability are subject to in-store display. Offers available while stock lasts.)
Men's / Ladies' Organic Cotton Innerwear Pack of 2
Original Price: HK$90 / pack
Special Price: HK$158 / 2 packs (HK$79 / pack)
Men's and Ladies' Right Angle Sneaker-In Socks
Original Price: HK$30 / pair
Special Price: HK$98 / 4 pairs
PP File Box Wide
Original Price: HK$78
Special Price: HK$68
Booster Essence Lotion 400ml
Original Price: HK$180
Special Price: HK$158
Hashtag #LifeWithMUJI to share your MUJI life with us!
Everyone has different ways of solving daily life problems. Share with us how you make life more convenient and comfortable by using MUJI Daily Goods with the hashtag #LifeWithMUJI and let others be inspired by you.
---