Daily Goods
MUJI examines products through material selection, process streamlining and packaging simplification, designing products from users' point of view and detailed observation from daily life. Over the years, MUJI has developed more than 7,000 items ranging from clothing, household goods to food, bringing comfort and convenience to people.

Through regular sharing of insights on daily goods across apparel, household, personal care items and food, we hope to bring you closer to our products that are designed for the daily life.
Browse on Selected Daily Goods Offers
Daily Wear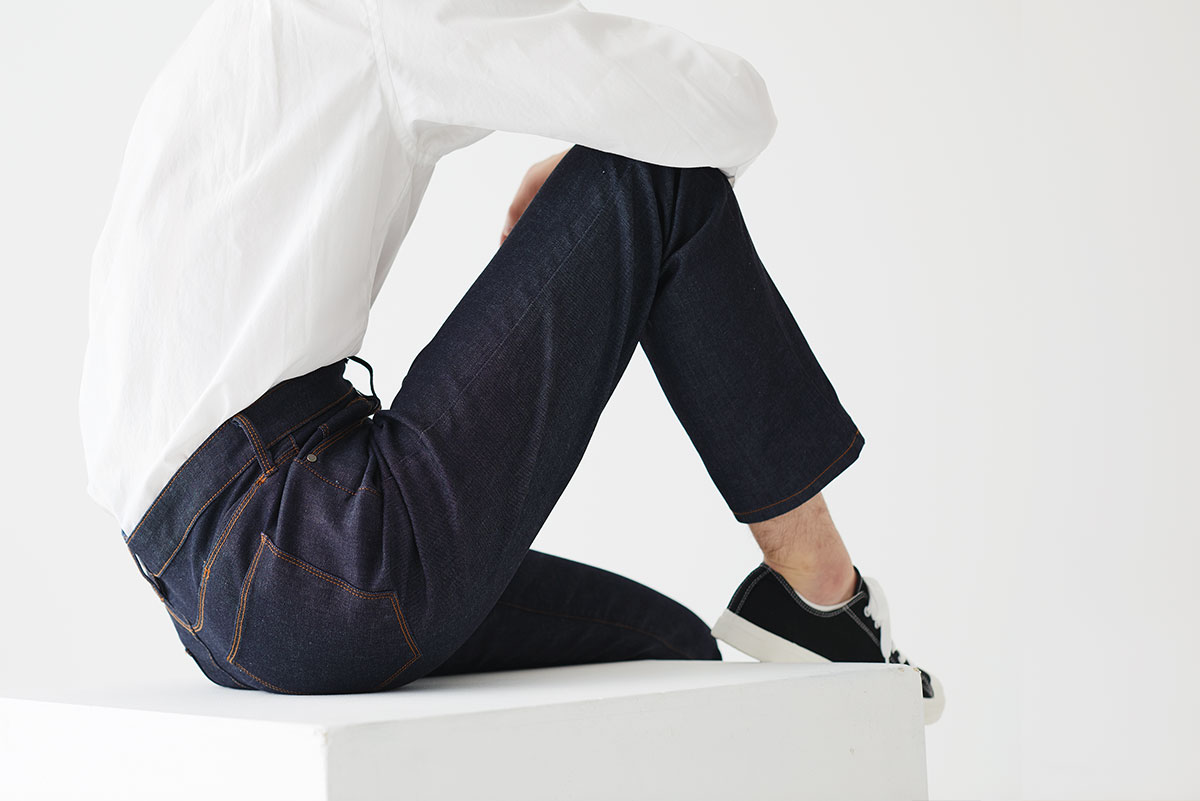 With an eye for comfort and functionality, MUJI's basic wear items are mainly made of natural materials such as organic cotton, with simple design and different knitting methods. Ranging from casual wear, homewear, pajamas, socks to accessories, select suitable item that fits your daily needs and enjoy the comfort it brings to you.
Cotton Stretch Denim
Made of elastic organic cotton material and being stretchable from all directions, the denim fabric stretches following each and every body movement for enhanced wearing comfort. The stretchable waistband makes it fits well with every movement. Together with the design of the 6th pocket for mobile phone and care instructions printed on the inner side of the pockets to enhance functionality and wearing comfort.

There are 3 fits including skinny, slim and straight for men's, and 4 fits including skinny, slim straight, boyfriend and wide for ladies. Simply put on a pair of denim jeans according to your body shape for a comfort daily outfit.
Right Angle Socks
In 2006, in the search for the perfect sock, MUJI discovered Czech Grandma Ruzena's knitted right angle socks - and they fitted perfectly. MUJI wanted more people to experience this comfort, but until then, socks were created at a 120 angle, development began and, with that, the angle changed by 30 degrees. MUJI had to reinvent the entire manufacturing process to mechanise the hand knitting technique. The socks had been so popular that since 2010, and it gradually became the signature socks of MUJI. These right angle socks are shaped to fit the natural contour of your feet, so that the socks won't slip out of position as your wear them for daily activities.
Water Repellent Sakosch
When it comes to daily outfits, accessories are more than decorations – they serve useful functions as well. In today's world where mobile phones can fulfil most daily tasks, many people only grab a phone when they hang out. The Water Repellent Sakosch is lightweight and compact in size, yet large enough to keep essential personal belongings such as mobile phone and wallet. The water repellent processed surface makes it convenient to use in rainy days. Available in 6 colours for easy mix and match with daily outfit.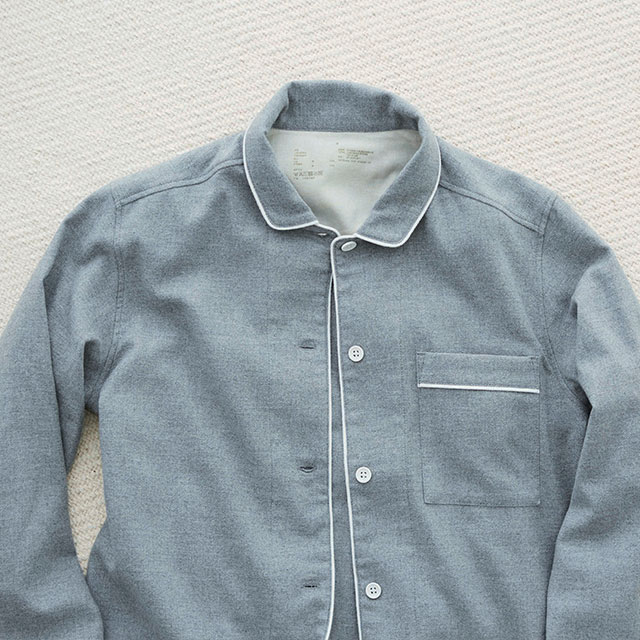 Seamless Flannel Pajamas
When lying down, what you wear is compressed tightly against the body with the pressure from our weight. Even the tiniest side seams can bring discomfort to the skin. Use of circular knitting technique, MUJI's seamless pajamas are designed and manufactured for enhanced comfort when lying down. Washing labels are printed on the inner side of fabric to avoid discomfort. Stepping into autumn, wear Seamless Flannel Pajamas made of organic cotton with brushed finishing for additional softness, warmth and comfort, and enjoy a good night's sleep.
Daily Household Goods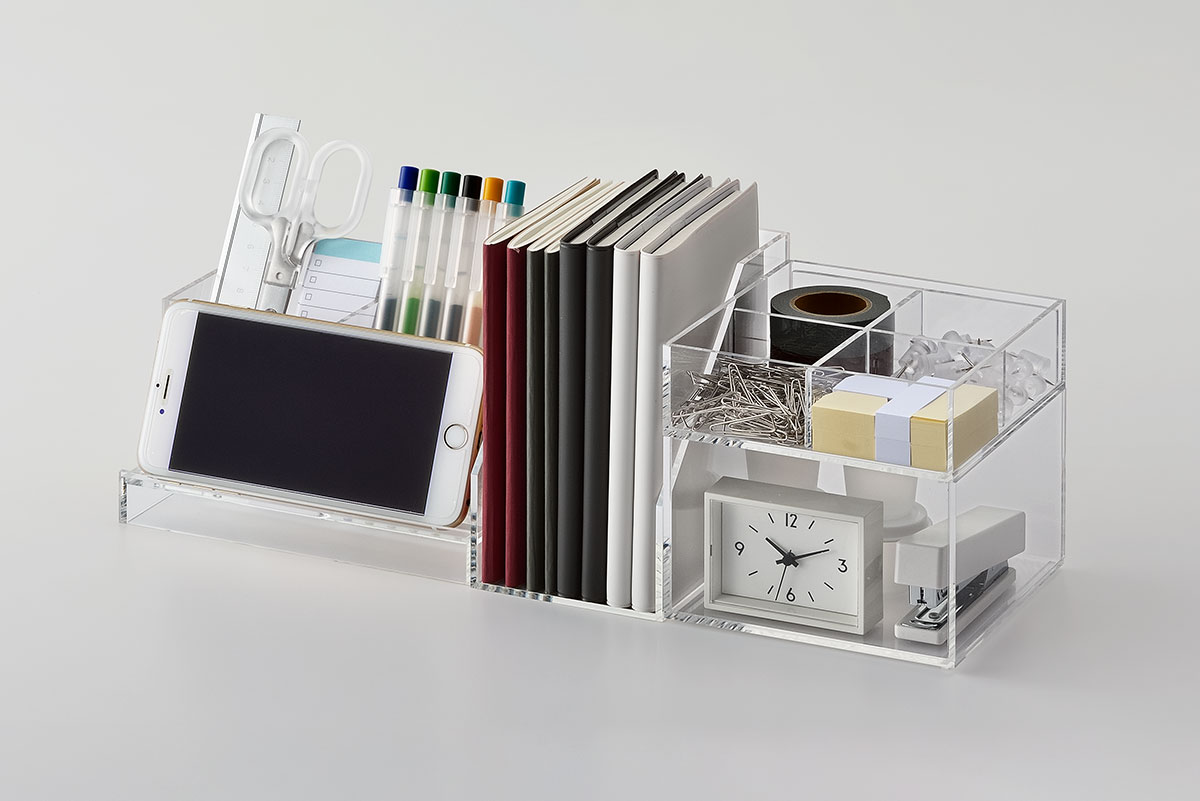 Use suitable storage items to keep different items such as stationery and clothes to tidy up your living environment. Autumn is the best season for hiking, bring along an Organic Cotton Blended Thin Towel during outdoor activities to stay clean and dry. The lightweight and soft texture makes it easy to carry. Available in multiple sizes to cater different needs.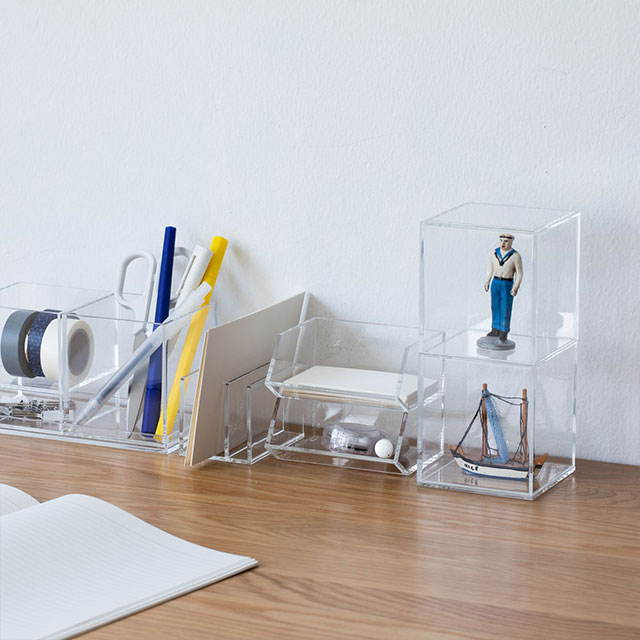 Acrylic Storage
Made of transparent acrylic materials, you can easily identify what's inside the case. The newly launched Acrylic Stackable Boxes are available in standard modular sizes, allowing you to stack up different units easily and create your own combination, for better utilization of limited desktop space, whether to keep tiny belongings or display favourite decors in a tidy way.
Organic Cotton Blended Thin Towel
Made from long-fiber cotton, specially woven to retain softness even after repeated washings. Available in different sizes including hand towel, face towel, small bath towel and bath towel, and different textures, MUJI's towels are manufactured to cater your diverse needs in daily life. The thin towel is lightweight and quick-drying, making it handy for travel, sport or other outdoor activities.
PP Laundry Hanger
Hangers made from lightweight and durable PP material. The delicate design of hangers helps prevent clothes from falling off and retain their original shape. Available in 4 types for hanging different garments. For instance, the angle on PP Laundry Hanger makes it easier to hand your clothes from the neckt without stretching the rib, while PP Wide Shoulder Hanger is suitable for hanging your jacket so that the shoulder line will not be ruined easily.
Daily Personal Care
MUJI's Sensitive Skin Cleansing Oil uses water that comes from caves deep in the mountains of Japan in combination with natural botanica ingredients, preparing your skin for the next step in your skincare routine to keep moisture in and maintain your skin in a healthy condition.
Sensitive Skin Cleansing Oil
Made from plant-based oils with olive oil as the main ingredient, and free from fragrance, coloration, mineral oil, paraben and alcohol, it is best for individuals with sensitive skin*. Use cleansing oil to remove makeup completely so that your skin can take good rest while you sleep for better skin health. Available in 50ml, 200ml and 400ml for catering to both travel and daily needs. *Allergy test (However, it is not guaranteed to be allergy free for all users)
Daily Meal
Enjoy a cup of coffee while having a break at work or study can help keep you stay awake and refresh your mind. More than 10 types of coffee beans, coffee powder and drip coffee are available at MUJI to match your selection for everyday enjoyment.
Organic Coffee
The blend of Arabica coffee beans produced from Columbia and Honduras brings out a soft and mellow flavour. Available in coffee beans, coffee powder and drip coffee, and each of them has 4 flavours including Original, Decaf, Latte and Dark Roast for catering to different preferences. Take a moment to sit back, relax, and drink your favourite coffee.
Selected Daily Goods Offers
From now till 31st October 2019, customers are entitled to discount offers on the following selected "MUJI Daily Goods" while stock lasts.
Men's & Ladies' Cotton Stretch Denim
Original Price: HK$320
Special Price: HK$250
Men's & Ladies' Organic Cotton Mix Right Angle Socks
Original Price: HK$30
Special Price: HK$98 / 4 pairs
Men's & Ladies' Seamless Flannel Pajamas
Original Price: HK$280
Special Price: HK$250
Acrylic Storage
Original Price: HK$8 – HK$350
Special Price: 10% off
Organic Cotton Blended Thin Face Towel
Original Price: HK$48
Special Price: HK$38
Cotton Pile Thin Face Towel
Original Price: HK$30 – HK$250
Special Price: 10% off
PP Laundry Hanger (Set of 3)
Original Price: HK$22
Special Price: HK$18
PP Laundry Hanger
Original Price: HK$22 – HK$25
Special Price: 10% off
Sensitive Skin Cleansing Oil (400ml)
Original Price: HK$160
Special Price: HK$130
Organic Coffee (Coffee Beans / Coffee Powder / Drip Coffee)
Original Price: HK$35 – HK$58
Special Price: 20% off for 2 pieces
---